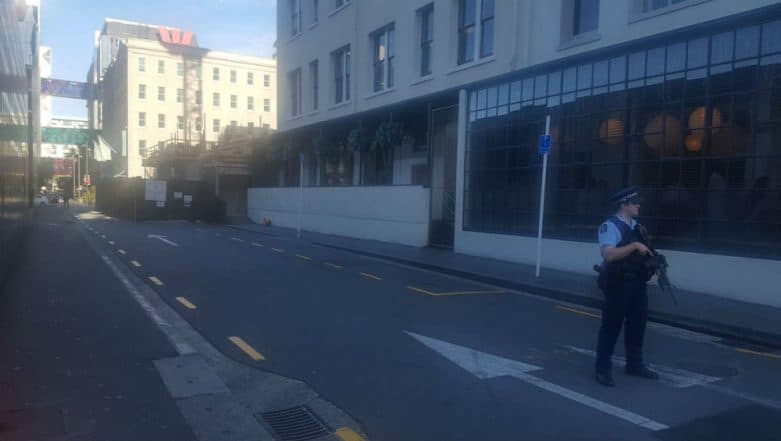 Auckland, March 15: Two controlled explosions were reported near Britomart train station in New Zealand's Auckland city on Friday after suspicious bags were found in the area. The suspicious bags were found on a day when shootings were reported at two mosques in Christchurch city in which 40 people were killed.
The area was cordoned off after two bags were located unattended on Galway Street in central Auckland. Cordons were put in place around the immediate area as a precaution and the Defence Force was notified. Defence Force personnel later carried out a controlled explosion of the bags as a precautionary measure. No one was hurt in the blast. New Zealand Terror Attack: 40 Dead In Christchurch Mosque Shootings, Says NZ PM Jacinda Ardern.
"Two controlled explosions have been undertaken at Britomart. The cordon is being lifted, with people now being allowed back into the station. We will have an update on when train services will resume," Auckland Transport tweeted. New Zealand Mosque Shooting Was Live Streamed on Facebook by Shooter.
Earlier, at least 40 people were killed when gunmen said to be whites opened indiscriminate fire at two mosques in Christchurch city on Friday in what Prime Minister Jacinda Ardern described as 'one of New Zealand's darkest days'. The shootings took place at the Al Noor Mosque and Linwood Masjid, The New Zealand Herald reported.
One gunman, believed to be Australian, filmed as he shot victims in the mosque - and wrote a manifesto declaring his intentions, saying that "it is a terrorist attack", Police Commissioner Mike Bush said. He said there were also multiple improvised explosive devices attached to vehicles as part of the attack.