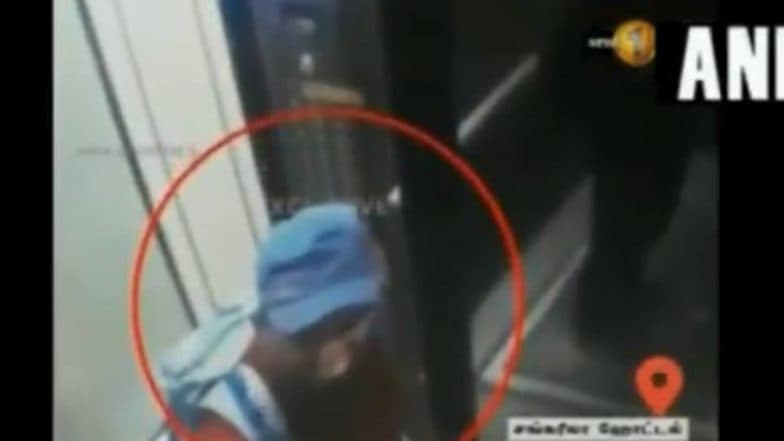 Colombo, April 24: Three days after the deadly terror attack in Sri Lanka, another CCTV footage has spotted a suspected suicide bomber entering the luxury hotel Shangri-La in Colombo moments before the devasting explosion. According to police, the wife and sister of a suicide bomber at the luxury hotel were killed in separate suicide blasts.
The suicide bomber has been identified as Insan Seelavan. The video, which is heavily circulated by local as well as international media agencies, shows a bearded man dressed in T-shirt and jeans entering the Shangri-La hotel with a heavily-loaded bag. In the footage, he is being seen entering the dining area and standing among other people. CCTV Footage Spots Suspected Suicide Bomber Entering St Sebastian's Church Before Explosion; Watch Video.
CCTV Footage Spots Suspected Suicide Bomber: Watch Video Below
#WATCH Colombo: CCTV Footage of suspected terrorist at Shangri-La Hotel on Easter Sunday. #SriLankaBombings (Video courtesy- News First) pic.twitter.com/dQrHTDE7C9

— ANI (@ANI) April 24, 2019
Apart from the Shangri-La, the coordinated terror attacks were also carried out at churches and other luxury hotels in Colombo and Batticaloa. The responsibility of the attack was taken by the Islamic State (ISIS).
The overall casualty toll has jumped to more than 320 deaths and over 550 left injured. A preliminary investigation also revealed that the attacks were in "retaliation for Christchurch" in New Zealand which killed 50 people, said state minister of defence Ruwan Wijewardene.