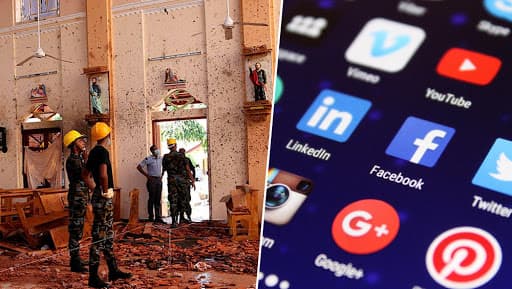 Colombo, April 30: Hours after Sri Lanka's Cardinal informed that Mass services would be resumed from the coming Sunday, the island nation's government revoked the temporary ban placed on the social media platforms including Facebook, Viber, WhatsApp, Instagram and Twitter. The ban on social media was imposed after the deadliest terror attack on April 21, in which over 250 people were killed and over 500 others injured.
Announcing the lift of the ban on social media, Acting Director-General of Information Nalaka Kaluwewa said, as reported by IANS, "The decision to ban social media was taken immediately after the attacks. Now after analysing (the situation), the government is of the view that it can be lifted." Sri Lanka to Resume Mass Services on May 5, Says Cardinal; Congregations Were Suspended Post Easter Sunday Bombings
However, the revocation of the ban came with a caution. Advising the people to be cautious of misinformation, Kaluwewa said, "Under the emergency regulations which are in force, the spreading of misinformation can be addressed and action can be taken against those who share such matter."
Following the serial blast, Sri Lankan President Maithripala Sirisena had banned the use of social media like Facebook Messenger, YouTube, Snapchat and Viber, for nearly 10 days. Announcing the President's decision, secretary to the president - Udaya R Seneviratne - had said at that time, "The government has decided to block all social media platforms in order to prevent incorrect and wrong information being spread. This is only a temporary measure."
Earlier too, the Sri Lankan government in 2018 had briefly banned social media platforms, in particular, Facebook, after a wave of rumours appeared to have instigated anti-Muslim riots and lynchings in the country, reported New York Times.