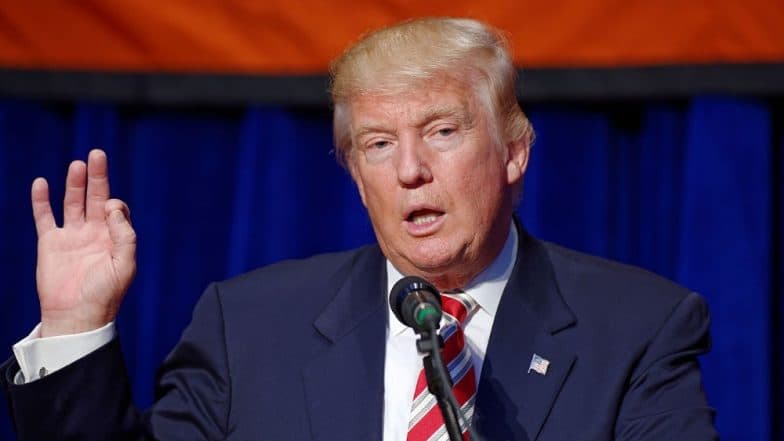 Washington, February 21: Despite pressuring his European allies to reclaim their citizens who had fled to join the Islamic State in Iraq and Syria (ISIS), United States President Donald Trump has himself decided to revoke the citizenship Hodu Muthana -- the 24-year-old Alabama-born woman who has pleaded to return along with her toddler son.
Muthana was 20 when she left her home to marry an ISIS fighter in Syria. She had told her family she was going to a university event in Turkey. She now lives with her young son in a Syrian refu­gee camp. 19-Yr-Old Shamima Begum, Who Fled in 2015 to Join ISIS in Syria, 'Will be Stripped of UK Citizenship'.
"I have instructed Secretary of State Mike Pompeo, and he fully agrees, not to allow Hoda Muthana back into the Country! (sic)," Trump tweeted on Wednesday.
Pompeo had earlier said that Muthana was not an American citizen and will not be admitted, CNN reported.
"Ms Hoda Muthana is not a US citizen and will not be admitted into the US. She does not have any legal basis, no valid US passport, no right to a passport, nor any visa to travel to the US," he said in a statement.
The woman earlier married three IS fighters in Syria and called for the killing of Americans on Twitter.
In a series of interviews this week from northern Syria with her infant son, Muthana, now 24, expressed deep remorse.
"When I left to Syria I was a naive, angry, and arrogant young woman," she said in a handwritten statement provided to CNN by a representative. "To say that I regret my past words, any pain that I caused my family and any concerns I would cause my country would be hard for me to really express properly."
She described herself as having been "brainwashed". Trump recently told the UK and other European countries to take back and put on trial IS fighters captured in the final battle against the group. He warned that the alternative was that US-led Kurdish forces would have to release them.
Muthana's family lawyer, Hassan Shibly, said it was "preposterous" that Trump called European states to take back their citizens and now "was trying to play games when it came to American citizens".
"The Trump administration continues its attempts to wrongfully strip citizens of their citizenship," he told ABC News.
"Hoda Muthana had a valid US passport and is a citizen. She was born in Hackensack, New Jersey in October 1994, months after her father stopped being (a) diplomat," Shibly said, and later tweeted a picture of what he claimed was Muthana's birth certificate that appeared to confirm her place and date of birth.
The lawyer said that the woman's father, who had been in the US as a Yemeni diplomat, stepped down from his diplomatic role months before Muthana's birth.
Under the US law, Muthana would be a US citizen by nature of her birth in the country, though the State Department can argue that her claim to citizenship was flawed because of the immigration status of her parents at the time of her birth.
(With IANS inputs)