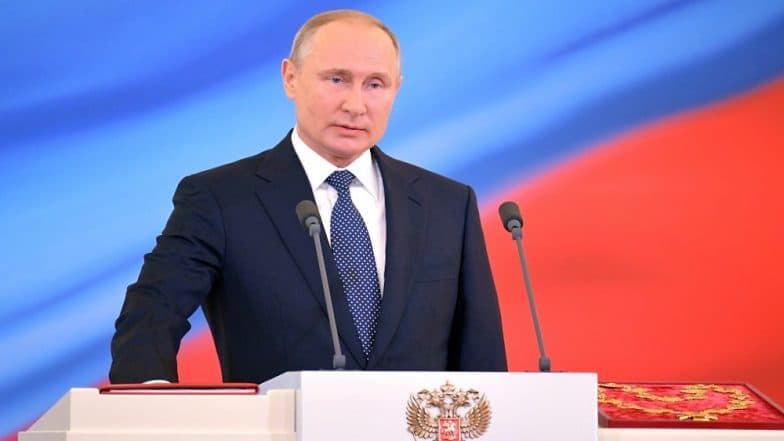 Toronto, March 5: Russian President Vladimir Putin has signed an official decree that withdraws his country from the 1987 Intermediate-Range Nuclear Forces Treaty (INF) with the U.S.
After signing the decree, the Kremlin announced the suspension of the Cold-War era arms control treaty would last until the U.S. "ends its violations of the treaty or until it terminates".
The President signed an executive order suspending Russia's compliance with the INF Treaty

— President of Russia (@KremlinRussia_E) March 4, 2019
The suspension of the treaty which controls the development and placement of nuclear missiles vis-a-vis each other, comes after the Trump Administration accused Moscow of violating the provisions of the treaty. The Trump Administration says Russia has been developing a cruise missile that violates provisions of the INF treaty. The treaty bans the production, testing and deployment of land-based cruise and ballistic missiles that have a range between 500km and 5,500km on the European continent.
However, Moscow has rubbished Washington's claims and in turn charged the Trump Administration of withdrawing from the deal under false pretenses. Putin had said that he did not need to develop new missiles as the current arsenal with Russia was sufficient to cause the required damage in the event of an attack against the country.
During this year's State of the Union address, US President Donald Trump had proposed a new nuclear deal with Russia that could also include other nuclear-armed nations such as China and India. Trump had said, "Perhaps we can negotiate a different agreement, adding China and others, or perhaps we can't" -- in which case, we will outspend and out-innovate all others by far."
The Trump Administration suspended the country's participation in the landmark Intermediate-Range Nuclear Forces Treaty with Russia on February 2, 2019.