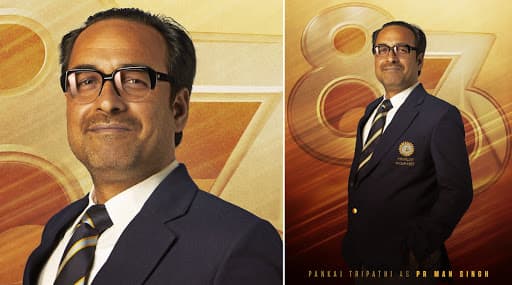 83 The Film will release this year and everybody is really excited about it. We have only heard stories about that glorious year when the Indian Cricket Team picked up the World Cup Trophy for the first time. The makers of the film have thus decided to familairise us with the squad with the characters who are playing them in the film. Today, the character poster of Pankaj Tripathi as PR Maan Singh was released where the actor's amusing smile looks wicked.  83 The Film: R Badree to Play the Role of Former Cricketer Sunil Valson in the Kabir Khan Directorial
PR Maan Singh was Indian team's manager when India took part in the 83 world cup. At that time, the team had no support staff and just the manager. Speaking to Sportstar, he had said, "Despite ego problems off the field, once they were out there in the middle, the pride of playing for the country was the decisive binding factor for the entire team." That means we can expect some drama as well where Tripathi might just play the peacemaker.
An amazing player but also the backbone of the Indian Cricket Team! 🏏

Presenting the 'MAN' Manager, PR Man Singh 🏆@TripathiiPankaj @RanveerOfficial @kabirkhankk @deepikapadukone #SajidNadiadwala @Shibasishsarkar @madmantena @ipritamofficial @WardaNadiadwala pic.twitter.com/AiGxBsBp6F

— Nadiadwala Grandson (@NGEMovies) January 24, 2020
Speaking about meeting the man himself, Tripathi had informed IANS, "It was an amazing experience meeting PR Man Singh. He has an incredible love and passion towards the game of cricket even today. He is a very disciplined person. He has created a huge museum in his house in Hyderabad with cricketing memorabilia. We spoke on various chapters of his personal and professional life, and I got emotional couple of times listening to his stories and life journey."