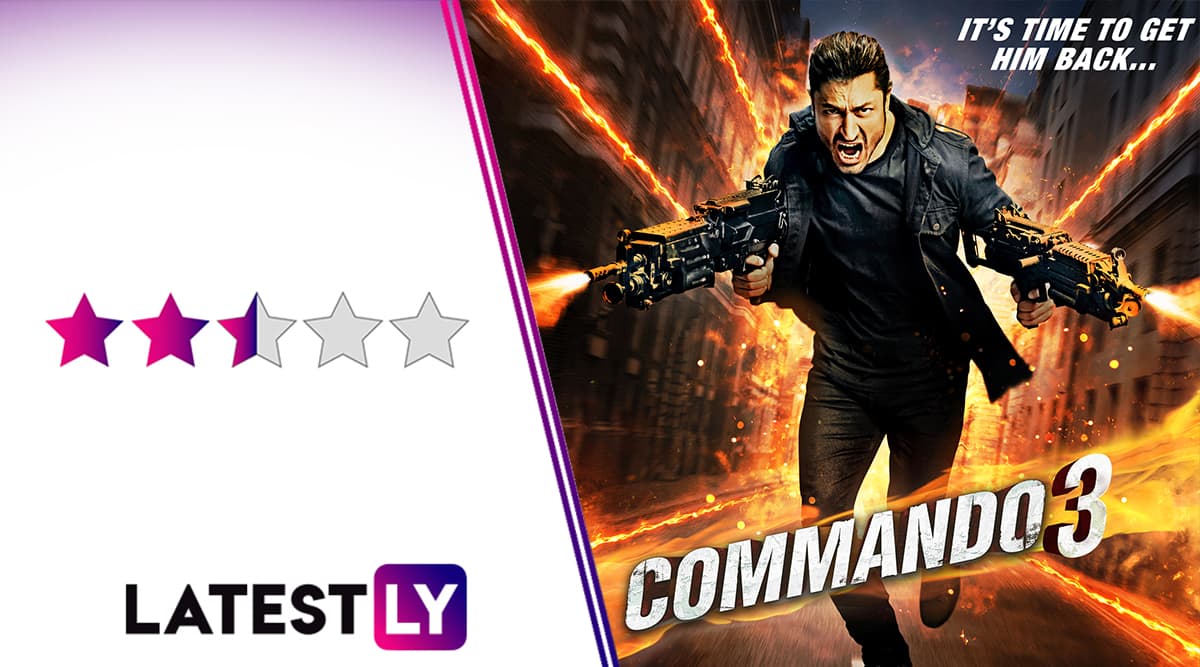 Commando 3 is Vidyut Jammwal's third outing as the titular badass commando. The new film has been directed by Aditya Datt, with a story by Darius Yarmil and Junaid Wasi. Adah Sharma reprises her role from the previous installment and Angira Dhar joins the cast. This time Vidyut, joined by Adah and Angira, has to thwart a terror attack in India, while trying to catch the mastermind in London.  Overall, the movie is an entertainer. You want action, there is loads of it, with oodles of style, energy, rawness and authenticity. But no movie is without flaws, and the few in Commando 3 stand out jarringly. Commando 3: Vidyut Jammwal's 5-Minutes Entry Scene from the Film Is Out and It's Impressive (Watch Video).
The amount of silly plot points that you have to endure just to be able to enjoy this movie are way too high. Leave your brains at home, is a tag line usually associated with the comedy genre, but here we are asking you to do it in case you want to watch Commando 3. Once there is this suspension of disbelief, you'd thoroughly enjoy this film.
The story is fine. You can work with it. But it is the lousy details that weave together the plot is where the film derails. MI and British Intelligence are shown to be the dumbest agencies in the world, who let a terrorist slip past them for a few minutes, right under their nose, and join them back, without anyone noticing. I can go on and on. The story invests time in the villain, which is a good thing, but despite that doesn't really reveal much of his backstory. Commando 3 New Promo: Vidyut Jammwal Hails The Diversity in India Through This Beautiful 'United We Stand' Video.
But, but, but, my dear readers, the action stunts are insanely good. Rarely in Bollywood would you find such well-choreographed fights. My mind is blown. You will feel the adrenaline rush as Vidyut shows off his moves.  Kudos to action director. Vidyut, take a bow. Angira and Adah also get their turn to own the screen and kick some butt, a rarity in Bollywood, and the ladies do a fantastic job. From the first fight sequence with a bunch of brawny men to the last one where Vidyut knocks out just one man with one move, you might find yourself clapping and whistling. But, the camera work to capture the stunts is mediocre. It could have been more sleek, to match the stylishness of the stunts itself.
Background score deserves a round of applause. It does full justice to the action. The sound goes beat to beat as Vidyut's pounces or even enters the frame.
Performances
Gulshan Deviah plays the villain and I was so happy to see the first few scenes thinking, someone finally paid attention to getting diction and accents right, but  as the movie progresses, the accents go haywire. Minus this point, Gulshan sails through the content provided to him. Adah Sharma exudes the confidence you'd expect her character to have. She will also manage to get a few laughs out of the audience. Angira Dhar makes the most of whatever little she has. She is a good actress, but here, her character was that of an angry, cold officer, that only allowed her to show so much range.
The show belongs to Vidyut Jammwal, of course.  He has to look angry, smug and dish out clap-worthy dialogues and he does exactly that. In one scene, the villain is walking past him, Vidyut maintains a smug face, but right as Gulshan moves out of the periphery, his expression changes into that of worry. He makes the best of these fleeting moments that have been assigned to him in between stunts. And speaking of action and stunts, this man deserves the awards. He is THE action hero of Bollywood. He cracks bones, jumps, runs, punches, kicks, rolls, ducks, almost flies – and does everything so convincingly.
Yay
-Vidyut Jammwal is the man
-Adah and Angira's action sequence
-Well-choreographed stunts
-Background score gives you a rush
Nay
-The sheer lack of logic in the plot
Conclusion
If you are a sucker for action films, there is no way you should miss Commando 3. It has well-choreographed hand-to-hand combat sequences. Things go overboard, of course, but never the kind of overboard that Bollywood masala movies are infamous for. There is method to the madness  that make the action scenes enjoyable. There is novelty in stunts. Songs don't hinder the pace of the film, so that is a good thing. But again, humble reminder, it has a very silly plot that defies logic at many points.