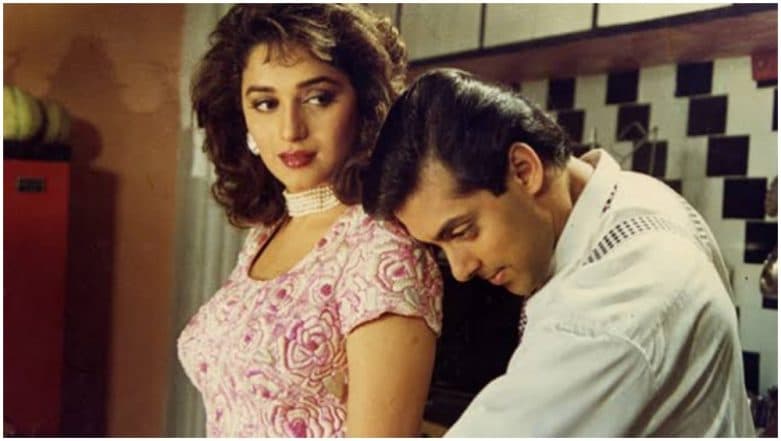 Hum Aapke Hain Koun..!, the '90s hit film completed 25 years on August 5. Starring Salman Khan (Prem) and Madhuri Dixit (Nisha) in the lead, this film produced under the banners of Rajshri Productions showed how one is ready to make sacrifices for the family. It even highlighted the concept of traditional Indian weddings and wedding-related festivities. Family, friendship, relationship, married life – this film had everything. The 1994 film directed by Sooraj Barjatya was the highest grossing film of 1990s. Fans are celebrating the success of this rom-com by using the hashtag #25YearsOfHumAapKeHainKoun on Twitter. Madhuri Dixit Has a Dream Cast Ready For Hum Aapke Hai Koun Remake But We Beg to Differ!
Anupam Kher who portrayed the role of Prof. Siddharth Choudhury (Nisha's father) tweeted, "Congratulations to @rajshri, #SoorajBarjataya and everyone associated (including me) with the iconic #HumAapKeHainKoun for completing 25years. The film apart from celebrating goodness, also changed the concept of marriages in India forever. #25YearsOfHumAapKeHainKoun." Salman Khan on Web Series: I Don't Like the RUBBISH That is Going On, My Content Will Be Like Hum Aapke Hai Koun.
The Super-Hit Movie of '90s
Unbelievable 25 year of #HumAapkeHaiKaun

The most entertaining and super duper hit movie of 90's I love the @MadhuriDixit (NISHA) Character..n also love @BeingSalmanKhan character...@AnupamPKher sir u r awesome in this movie..#25YearsOfHAHK #25YearsOfHumAapKeHainKoun pic.twitter.com/jHZUQeKPrI

— Arun Singh (@MrArun_Singh) August 5, 2019
WOW! The rush to watch HAHK
#25YearsOfHAHK #25YearsOfHumAapKeHainKoun

Movie that changed Indian cinema. opened Overseas market...

1st 100 cr ww grosser EVER

In that time and age..With just 35 screens it made History..7cr+ ff man..Just imagine the craze 😀 pic.twitter.com/DVTxRF9USF

— WE LOVE U SK :)) (@notorious_heart) August 5, 2019
Salman Khan and Madhuri Dixit's chemistry
#25YearsOfHAHK #25YearsOfHumAapKeHainKoun

Every damn scene..is iconic..Most Beautiful indian cinema ever..U just cant get enough of it EVER 😍#SalmanKhan as prem and #MadhuriDixit as Nisha ..their chemistry so gorgeous.. Hatss off Sooraj ji for such a vision @rajshri pic.twitter.com/2xwPhNp0Fu

— WE LOVE U SK :)) (@notorious_heart) August 5, 2019
This Film Has Won Millions of Hearts
An iconic BLOCKBUSTER!! Celebrations started 25years ago and continue to date. Prem, Nisha & family came, we saw and they conquered our hearts forever 😍 @BeingSalmanKhan @MadhuriDixit @rajshri @SoorajBarjatya #25YearsOfHumAapKeHainKoun pic.twitter.com/zLQ4aCrEua

— Anita Ahluwalia (@AnitaAhluwalia) August 5, 2019
An Iconic Film That Broke Records At The Ticket Windows
This Film contributed to Change The Indian Film industry & a Turn Towards Less Violent Stories

B-O INDIA Described it as "The Biggest Blockbuster OF Modern Era"

The Highest Grossing Film Of all time Breaking Records of Sholay, which Stood For 19 yrs.#25YearsOfHumAapKeHainKoun pic.twitter.com/xB9qviD977

— RAJ (SK//MSD)❤️ (@raj_skdhoni) August 5, 2019
Madhuri Dixit as Nisha
.@MadhuriDixit as Nisha #25YearsOfHAHK #25YearsOfHumAapKeHainKoun Let's celebrate all #Madhurians pic.twitter.com/3LsBXIAO6q

— Madhuri's Fan Mexico (@ReneAguilarAH) August 5, 2019
This Film Had 14 Songs
Thank you for making the 90s so wonderful 😊🙏@renukash @MadhuriDixit @BeingSalmanKhan @AnupamPKher pic.twitter.com/Tog3GVJboT

— Vibhuti (@victorvibhu) August 4, 2019
There are even reports stating the makers of Hum Aapke Hain Koun..! would be holding a special screening this week. About the special screening India Today quoted a source saying, "A special screening is being planned for August 9 at Liberty cinema with the entire cast including Salman, Madhuri and other members of the film. The entire team will relive the moments again, they will talk about their experiences and all." We congratulate the entire team of Hum Aapke Hain Koun..! for completing 25 years.