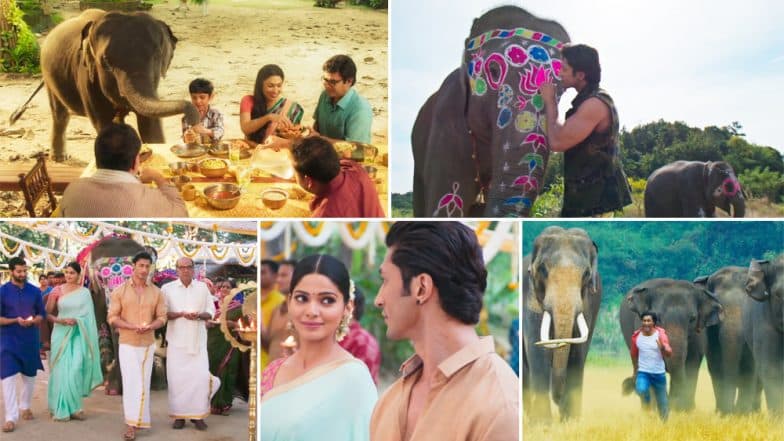 The makers of Junglee have released a brand new song titled Fakeera Ghar Aaja starring Vidyut Jamwal and Pooja Sawant. It is setup in the jungle with a lot of elephants around getting friendly with Vidyut and the other humans including Pooja. The song basically tells a story of Vidyut and Pooja's love story and also their equation with the elephants in the jungle. Its about how these humans make elephants a part of their family and live together like one big happy family. Jubin Nautiyal's soothing voice adds the much- needed musical touch to this newly released track. Vidyut Jammwal Takes Daredevilry To the Next Level in His Upcoming Action Film Junglee.
For those who haven't watched the trailer yet, we'd suggest you do. The story of Junglee is of a man (Vidyut) and his close bond with an elephant named Bhola. He grows extremely close to the pachyderm, so much so that he fights off poachers who want to take the elephant and his herd away. Backed by Junglee Pictures, it is directed by Chuck Russell, who has helmed Hollywood films such as The Mask, Eraser and The Scorpion King. Junglee Trailer: Vidyut Jammwal as The Guardian of The Jungle is Ready to Protect His Animal Friends From the Villains - Watch Video.
Check out the song Fakeera Ghar Aaja from Junglee here:
Junglee serves as actor Vidyut Jammwal's comeback to the screens after Commando 2. And while we will definitely see Vidyut pull some mean stunts (any of his movies are incomplete without it), they will be tad lesser in number than we usually see the trained martial arts actor do. Also, we are curious to see how well has he got along with the elephants in the movie too! The movie is all set to release on April 5, 2019. So are you ready to take this adventure with Vidyut?