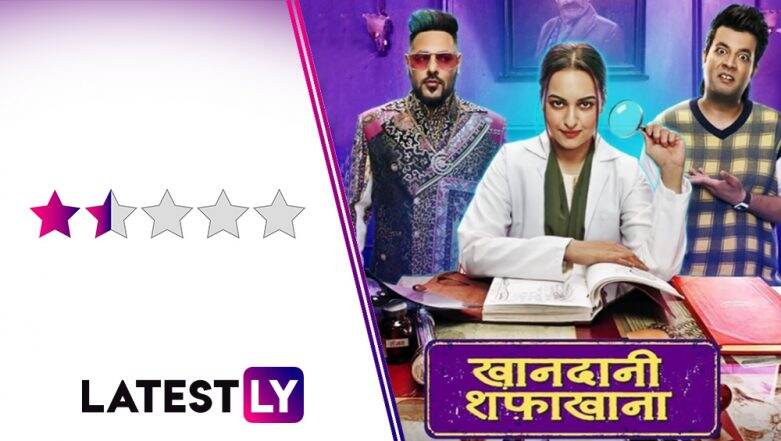 Khandaani Shafakhana Movie Review: Baby Bedi (Sonakshi Sinha) is a medical rep in Hoshiarpur who has to take care of her mother (Nadira Babbar) and a wastrel brother Bhooshit (Varun Sharma). Sunk in debts over her sister's marriage, Baby sees a ray of hope when her deceased uncle (Kulbushan Kharbhanda) leaves his clinic to her. There is a catch, though. His clinic happens to be a Khandaani Shafakhana - a sex clinic, where his uncle used to treat bedroom problems with Unani medicine. Box Office Prediction: Will Sonakshi Sinha Redeem Herself at the Box Office With Khandaani Shafakhana? Find Out!
Baby can sell the clinic, set in a prime location, only if she can run it for six months without fail, With her financial woes increasing, Baby goes along with her uncle's wishes, much to the dismay of her mother. She realises that there isn't much money in this profession, with only a few patients. But one high-profile client, a rapper Gabru Ghaatak (Badshah), offers her a window to earn profits.
Khandaani Shifakhana is directed by Shilpi Dasgupta, and is produced by Mrighdeep Singh Lamba of Fukrey fame. A movie like this has to be appreciated for talking about sex and the problems surrounding it. The movie also has this bold idea of making a girl solve men's 'problems in bed'. The question here is, is it gutsy enough? Or even fun enough?
The answer to both the questions is a resounding no. Khandaani Shafakhana may proudly proclaim that it brought the chatter of sex out in the open. But talking about sex and actually bringing conviction in that chatter are two different things.
Take the climactic scene in the film, for example (Some minor spoilers ahead). It is a courtroom scene where the protagonist is tried for running an illegal sex clinic. Random people suddenly talk about how discussing sex is bad or good, before a character points out that at least Baby got them to talk about sex. Everyone seems happy with this argument and suddenly, the priggishness is ditched.
This scene would have sounded great, if it wasn't so amateurishly shot and written. But then the same goes for the entirety of the film. For a movie that is marketed as a comedy, Khandaani Shafakhana has more melodrama than any TV soap, and it also lacks genuine laughs. The occasional gags come from Baby's initial encounters with her uncle's clients, but even that promise runs out dry within a few minutes. And once the intrigue of the premise is done away with, Khandaani Shafakhana becomes a big drag that doesn't know where and when to end.
What's more, the film is filled with irritating side characters that look like tropes cherry-picked from a K-serial.  Sure, there is a taboo surrounding the chatter of sex, but isn't there a better way to show it than the stereotypical depiction that Khandaani Shafakhana goes for? Movies like Vicky Donor and Shubh Mangal Saavdhaan also discussed taboo subjects in a light-hearted manner and were set in small towns, just like Khandaani Shafakhana. And yet there is a sense of maturity in how the characters react to the ideas of sperm donation and premature ejaculation, even if some of them look down on these. In this case, Khandaani Shafakhana feels as prudish as the people surrounding Baby and her uncle.
The catchphrase of the film is 'Baat Kar Lo' (at least, talk about it), but Khandaani Shafakhana itself takes beyond the interval to properly talk about 'it'. Till then, the movie spends way too much time in exploring Baby's uneasiness in dealing with her patients, and also the people's reactions to her new profession. And to add to our woes, there is also a romantic subplot for Baby involving the neighbouring sherbet-seller (Priyanshu Jora) that doesn't really work out.
Things become slighting interesting when Badshah's character arrives on the scene. But he is treated more of an ex-Machina than a purposeful character. The same goes for Varun Sharma's role, whose purpose in the film is hardly meaningful, save for a few weak-smile inducing gags, and whose presence is often forgotten when the movie gets closer to its subject.
Khandaani Shafakhana's biggest victim is its protagonist, Baby Bedi herself. The movie might pretend to show Baby off as a messiah for sex troubles and ends up giving her a happy ending, but it doesn't really allow her to score a victory on her strengths.
There is a scene in the film where Bhooshi claims to his sister that he is 'feminine', as he supports girls to move ahead of guys. But baulks immediately when she reveals her intention to work on the clinic. This is exactly how Khandaani Shafakhana makes do with its lead, Baby. Sonakshi Sinha's Khandaani Shafakhana Gets a U/A Certificate From the Censor Board Without Any Cuts.
Sonakshi's character has this interesting trait of identifying a person's disease through his or her body, but that is never fully utilised. Instead, Baby is made to narrate drawlingly long moral stories that irk us rather than make a proper point. For a movie that is proud to have a heroine to drive the plot, Khandaani Shafakhana doesn't even let her untie the knots of her life in the end, instead, letting a man swoop in and save the day for her.
Watch the trailer of Khandaani Shafakhana here:
Well, while Khandaani Shafakhana ends up disappointing me as a film, at least, it does a good job of creating the right kind of locales for the setting. Rishi Punjabi's cinematography is decent, but the same cannot be said about the editing. There are some scenes that are left hanging with no sense of purpose.
Like, there is a scene where Baby discusses with her brother what excuse to give to her employer to get six month's sick leave. Next thing we know she is already at her Shafakhana, and we have no clue as to what she told her boss. If that feels inconsequential to the plot, then why have a scene discussing it with so much seriousness? The heavy usage of Punjabi may also be a little deterring for those who don't have much grasp over the language.
The Performances
Sonakshi Sinha tries hard to fit in her role and she does a job in making Baby Bedi a likeable character. Sonakshi has always been trying to take up strong female-led movies, but the content always lets her down, which again is the case with Khandaani Shafakhana.
Varun Sharma isn't as bad as he was in the last week's release, Arjun Patiala, though his character here fails to make a valid point of its relevance to the plot. Badshah, in his acting debut and playing a fictional version of himself, looks to be a decent actor, even if the film makes him ham too much. Kulbushan Kharbanda is quite genial in a cameo. Annu Kapoor, sadly, doesn't get to be a scene-stealer here as he was in Vicky Donor. Nadira Babbar is decent. Debutant Priyanshu Jora is affable.
Yay!
-  The Premise
- Sonakshi Sinha
Nay!
- Writing and Direction
- Caricatured Supporting Characters
- Drag in Many Portions
- Doesn't Lend to a Strone Female Protagonist
Final Thoughts
Khandaani Shafakhana may aim itself to be a gutsy movie in its ambitions to bring sex out in the open. But without a good focus, writing, and laughs, the movie ends up being a wannabe Vicky Donor that suffers from erectile dysfunction. Disappointing!