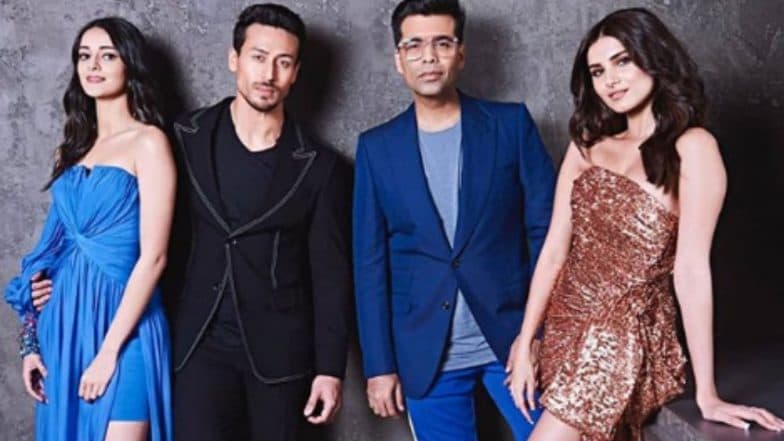 Looks like Karan Johar has vowed to go on a never- ending spree with this season of Koffee With Karan, Next up as Karan's guests on the show would be the Student of The Year 2 gang - Tiger Shroff, Ananya Panday and Tara Sutaria. The filmmaker shot with the stunning trio today and the pics are all over the internet. While on one side Karan has Tiger who has his hands wrapped around Ananya, to the other side we have Tara Sutaria who, by the way, looks smoking' hot! Koffee With Karan 6: Ajay Devgn Wins The Lavish Audi A5 Car For Giving 'Answer of the Season' on Karan Johar's Chat Show.
Quite honestly we never thought Tiger, Tara and Ananya would make it to the guest list because we never expected that! This will be the first time the trio will be appearing on the chat show and we're hoping to get some scoop about their current relationship status! To begin with, we'd sure love to know what's brewing between Tiger and Tara and if the reports of them growing fond of each other are actually true. Secondly, we'd love for Ananya to speak up on her equation with Sara Ali Khan after being spotted with her crush, Kartik Aaryan a couple of times. Thirdly, let's just hope that Tiger FINALLY confesses about his relationship with Disha Patani because c'mon! It's high time now they make it official! Hmmm... looks like this one's gonna be an interesting episode! Salman Khan and Shah Rukh Khan to Grace Koffee with Karan 6 Finale?
Check out these pics from the sets-
One with KJo
Talking about their film, SOTY 2 is directed by Punit Malhotra and the cast has already wrapped up shooting for the movie. The first posters were out many months back, post that there has been no buzz about the movie. KWK 6 will definitely get the film back in spotlight!