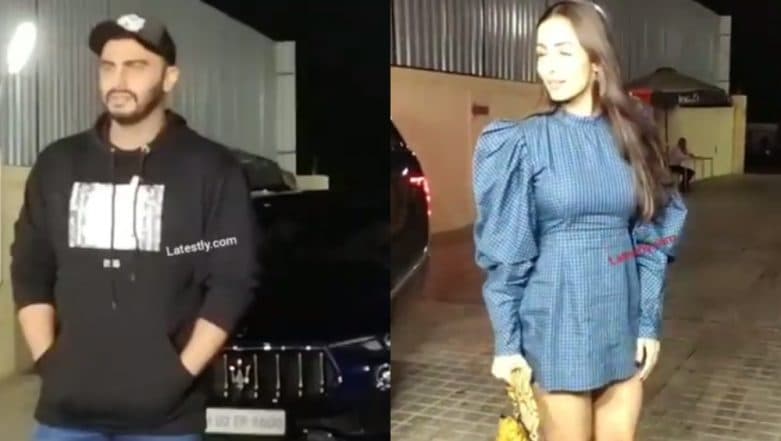 Malaika Arora and Arjun Kapoor are on their way to make it as official as possible. The two have been quite hush-hush about their relationship, but lately, they have stopped minding being clicked together. In the latest, Malaika stepped out to support her alleged boyfriend, Arjun, as his upcoming movie's special screening was held today. Arjun will be next seen in Raj Kuma Gupta directed India's Most Wanted. A special screening of the movie was held today for the industry folks. Malaika stepped out wearing a simple yet fashionable blue dress. Arjun Kapoor's Reason To NOT Marry Malaika Arora Anytime Soon Is Valid.
Though, to be noted, Malaika was not her cheerful self at the screening. She did agree to be clicked by the paparazzi, but we missed her wide smile that could brighten up an entire room. Hotness Alert! Malaika Arora-Arjun Kapoor and Kareena Kapoor-Saif Ali Khan Spotted Partying Together! View Pics.
Arjun arrived in a separate car, looking handsome in a casual hoodie.
We are looking forward to hearing Malaika's review of Arjun's India's Most Wanted. Hoping she'd put up an Instagram story about the movie.
There have been rumours that Arjun and Malaika will tie the knot this year. But Arjun has denied the rumours with a dose of his charm and wit, recently. As we all know he is currently sporting a bald look to shoot for one of his upcoming movies, Panipat. While talking to the media, he said, "To put things in perspective, as an actor, why would I want to get married when I am sporting a bald look? There would be pictures of it everywhere! On a serious note, I am not getting married,"
Until Malaika and Arjun decide to make it official-official, we'd have to happy with these press screenings visits and lunch dates. Stay tuned to Latestly for more updates.