Shahid Kapoor and Mira Rajput, one of the most-loved couples of Bollywood celebrated their third anniversary together. Mira took to social media to wish her hubby dearest in a rather 'special' way. She shared a rather embarrassing picture of Shahid on her Insta handle with a hilarious caption which reads: "Bad pictures make the best memories. That is why I love you. Happy 3 baby". We bet every couple will relate to the picture and caption.
Shahid Kapoor and Mira Rajput, who have been married for three years now, are proud parents to baby girl - Misha. They are now awaiting their second baby and ShaMira announced the arrival of this bundle of joy a few months ago on social media. Though Shahid and Mira have been on the radar a couple of times for their views on marriage, motherhood and pregnancy; they remain one of B-Town's most loved couple.
Check out Mira Rajput's post for Shahid Kapoor here: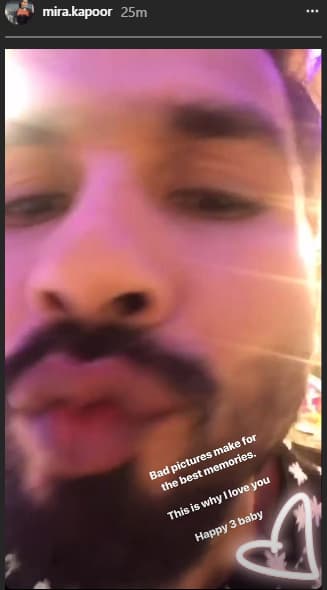 The duo had an arrange marriage, prior to which they had been dating for almost a year. Mira was 20-years-old when she got married to a 34-year-old Shahid. The age gap between them drew a lot of nasty comments on social media but c'mon, we know how rude people can be on social media. However, ShaMira never let any of that affect them. Kudos to you guys. Happy wedding anniversary, Shahid Kapoor and Mira Rajput! Here's to many more...
(The above story first appeared on LatestLY on Jul 07, 2018 03:45 PM IST. For more news and updates on politics, world, sports, entertainment and lifestyle, log on to our website latestly.com).