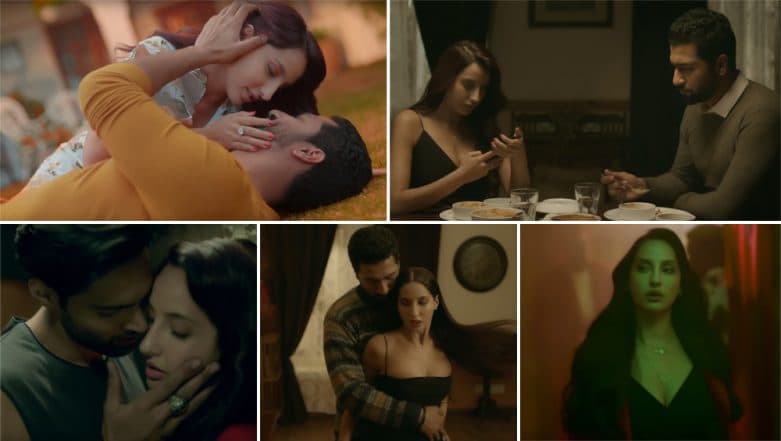 Vicky Kaushal and Nora Fatehi, feature in the music video of the single, "Pachtaoge", by Arijit Singh. The song was released on the internet today. When the teaser of the music video released, we were quite thrilled. What a waste. Turns out, the full music video is not really appealing. The video has been shot beautifully, looks good, the lead pair's chemistry is crackling, but it loses points when it comes to the story. The story about love and betrayal that the music video tries to tell, reminded me of cringe-worthy TikTok videos, just that "Pachtaoge" was more aesthetic. But I'd like to repeat, minus the story, everything works for the song.
Let us talk about Arijit Singh. The singer does so well when he is out of his comfort zone. Just this year, he has won the National Film Award for "Binte Dil" that he sang for Sanjay Leela Bhansali's Padmaavat. He also aces this number, "Pachtaoge", with his soothing vocals. He has definitely tried to do something different. The composer and lyricist is Jaani, while the music is by B Praak, and they have done an incredible job. The song should become a chartbuster. Move over 'Mature Bag', Vicky Kaushal's Sexy Backpack Is How to Keep It Stylish (See Pics).
Watch Vicky Kaushal and Nora Fatehi's Pachtaoge Here:
Nora also gets a chance to show off her dancing skills in the music video. And praising her for that would be saying Sachin Tendulkar plays cricket well at this point in time. Vicky's brings the vulnerability of the character out on the screen. But even the good music and gorgeous pairing of Vicky-Nora won't be able to make me watch this cringe story the second time.