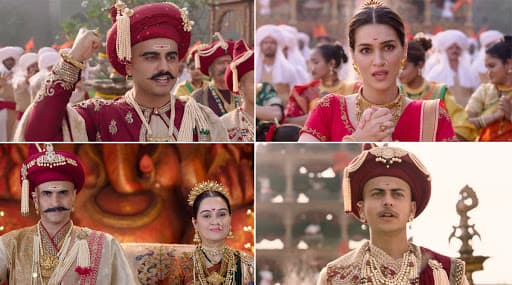 Panipat is a historic place which has seen many wars being fought on its ground. One of them was between the brave Marathas and Afghan king Ahmed Shah Abdali. Today a song from Panipat has been released titled Mard Maratha which will remind you of the Azeem O Shaan Shehenshah from Jodhaa Akbar. That shouldn't be surprising because that was an Ashutosh Gowariker film too. Panipat: Here's How Arjun Kapoor's Sadashiv Rao Bhau Is Related to Ranveer Singh, Priyanka Chopra's Characters in Bajirao Mastani
The song celebrates the Maratha pride and probably has the whole cast in one frame. While Arjun Kapoor is there along with Mohnish Behl and Padmini Kolhapure, there is also Kriti Sanon. It's a festive song which brings all the characters together except for Sanjay Dutt's imposing Ahmed Shah Abdali. Check out the song here...
The songs starts well but somewhere towards the end, it loses steam. But all in all, it manages to make a mark. The trailer of the film has been well-appreciated but then there were others who found a lot of things that were too similar to Ranveer Singh's movies. Well, the set-up matches a lot of historic movies, so it isn't a crime if it matches with the rest.