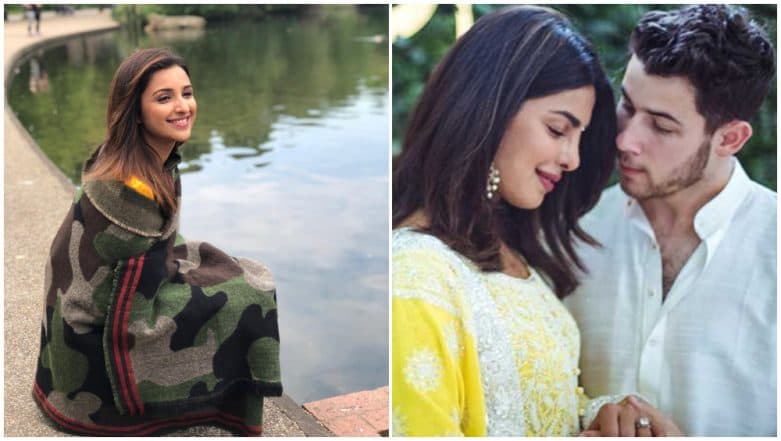 The rumours of the internet's favourite couple, Priyanka Chopra and Nick Jonas are wildin'. A media house recently published an article talking about how divorce is on its way for the celebrity couple. The 'in-depth' article was given weight by a 'source' claiming that Priyanka 'acts like a party girl'. Well, the video and pictures of the couple going viral on the internet will beg to differ. We are totally crushing over the video of Nick signing 'I love you' to his wife at a concert. The article has now been taken down by the publication. Priyanka's cousin, Parineeti Chopra, has given her two cents to the whole situation.
In an interview with Hindustan Times, Parineeti said, "All I will say is that it was a terrible article. But whatever my reaction was remains between us [family]. I don't need to say it as it's not for public consumption."
Though, she did add, "Honestly, I don't really get angry as it's not a part of my genetic built. Main kisi se zyaada argue bhi nahi kar sakti hoon. Even if I fight with someone — which hardly happens — it will be more on the emotional side. I am not that kind of a person, who will get angry and walk away. As for that article, like I said, public karna hota toh main tweet kar deti but it was very personal. But clearly, they were wrong because they removed it. And the whole world retaliated as everyone could see that it was absolutely fake and crap."
So, there is that. Parineeti's words are probably the closest we will come to a statement from a family member. The Kapil Sharma Show: Parineeti Chopra Reveals How Jiju Nick Jonas' Friend Flirted With Her.
Let us take a moment to remember that this won't be the first time when a publication had to take down a negative article written about Priyanka. Right after her wedding in December 2018, a media house, wrote a piece calling Priyanka a 'global scam artist'. The international backlash that the article received led the publication to retract the article and issue an apology. More to come as Priyanka climbs up the ladder.