As we know, the superhit Punjabi song 'Proper Patola', sung by Diljit Dosanjh and Badshah, has been remade for the Arjun Kapoor and Parineeti Chopra starrer Namastey England. Earlier today, the makers of the film dropped the reprised version of Proper Patola online. Unlike the original one, the new version is high on beats and has a much faster tempo. However, while some loved the reprised version of the song, many don't seem to be impressed with Namastey England version of the song. Several users on YouTube commented on the song's video, featuring Parineeti Chopra, Arjun Kapoor and Badshah, that they loved the original one and were missing Diljit in the fresh version. Namastey England Song Proper Patola: Sorry Arjun Kapoor but Parineeti Chopra Grabs All the Eyeballs in This Peppy Number
The original (Punjabi song) 'Proper Patola' video features Diljit Dosanjh and has been a hit especially in the states of Punjab and Haryana. Many feel that the remake, which also has Aastha Gill as one of the singers, lacks the punch and the swag of the original. Fans also can't help but mention how Diljit features nowhere in the remake video. From what it seems, it's a thumbs down for the Namastey England version of Proper Patola as far as Internet users are concerned. However, there are fans of Parineeti, Arjun and Badshah, who liked the new Proper Patola and are grooving to it. Which one do you think is better? Let us know in the poll below.
Here's a Look at Some of the Comments: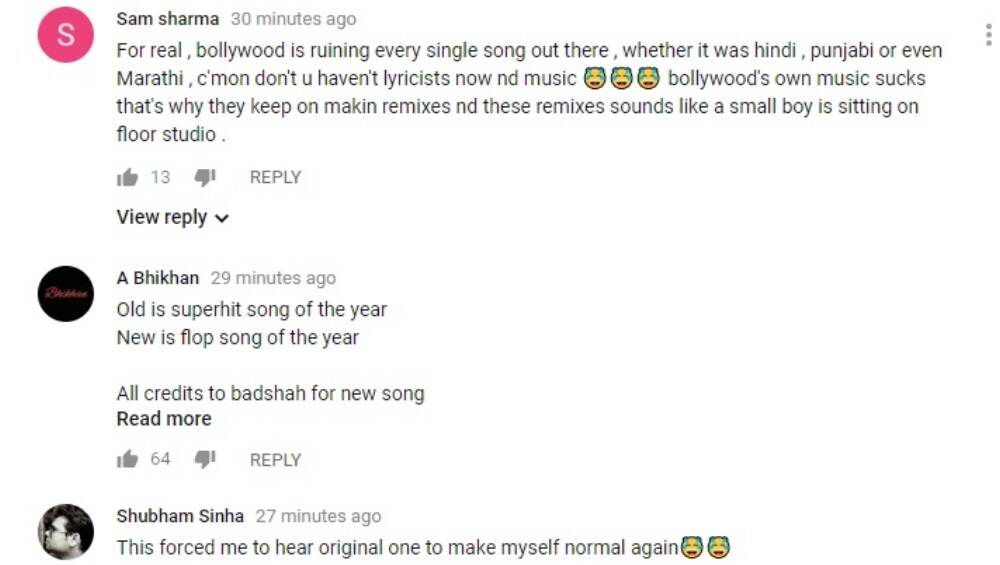 Check Out Both Original and the Reprised Version Here:
Original Version
Reprised Version
Which version did you like?
Helmed by Vipul Amrutlal Shah, Namastey England brings back Arjun and Parineeti together on the big screen after 2012 film Ishaqzaade. The romantic drama revolves around the story of a man who follows his wife all the way to London, where she has gone to live a free life and chase her dreams. Bankrolled under the banner of Reliance Entertainment, Namastey England is slated to hit the screens on Dussehra on October 19. Watch this space for further updates.