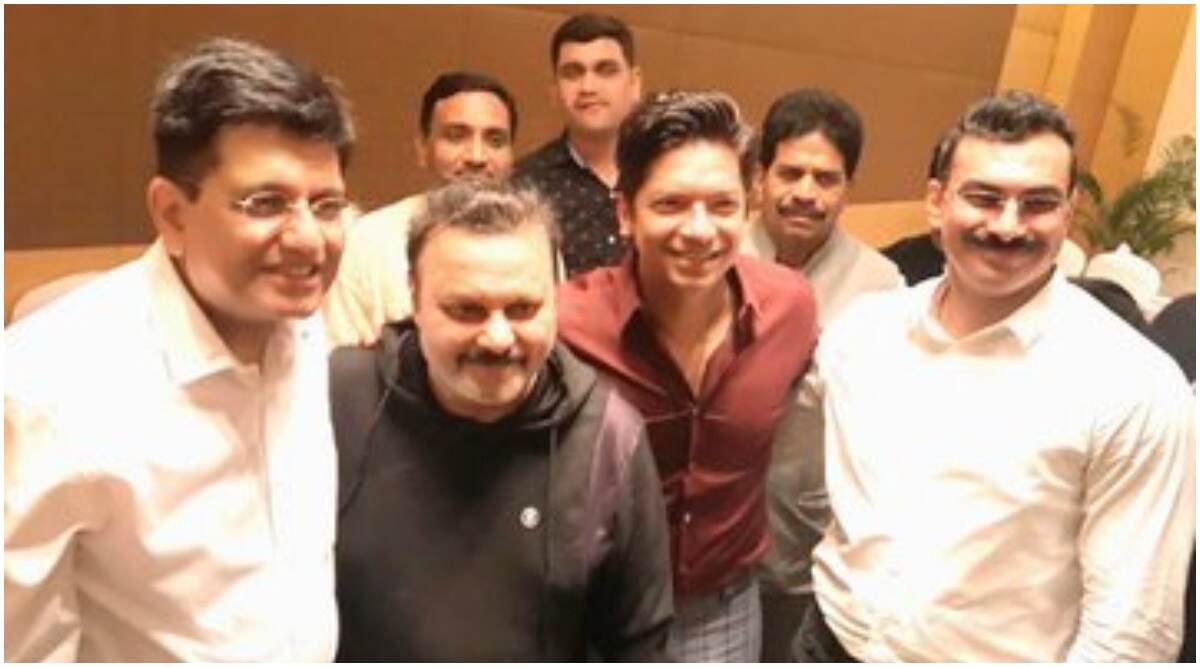 On Sunday, January 5, 2020, the Narendra Modi government, through Union Minister Piyush Goyal, held a special dinner meet with select Bollywood celebs to discuss and clarify on the Citizenship Amendment Act (CAA). This was done with the intention so that these celebs could then propagate the discussions among their followers, and thereby increase the confidence of the public in the act. However, thanks to an investigative article in Huffington Post, the details of the dinner meet got leaked before it happened, and it created a huge outrage. BJP-Bollywood CAA Meet: Protesters Gather Outside Hotel Grand Hyatt in Mumbai; Prasoon Joshi, Urvashi Rautela Among Other Celebs Present For Dinner Meet.
Following which, some of the A-list celebs who reportedly got the invite, like Karan Johar and Vicky Kaushal, gave the meetup a wide berth. The meet did happen and celebs like singer Shaan, producer Bhushan Kumar, directors Rajkumar Santoshi, Rahul Rawail, Kunal Kohli, actors Ranvir Shorey, Urvashi Rautela and others were part of the discussion. While most of these celebs haven't yet started speaking on what they discussed, Shaan took to Twitter to discuss CAA with his followers. BJP-Bollywood CAA Meet: Ranvir Shorey Reveals What Was Discussed at the Dinner Hosted by Narendra Modi Govt.
Needless to say, it didn't go very well. So here's what happened.
It all began when Shaan tweeted his gratitude to Piyush Goyal for 'clear'ing their doubts and confusion about CAA, responding to a tweet from BJP leader Tarun Rathi.
A special thanks to @PiyushGoyal Ji for taking the time to effort to interact with us on #CAA .. and clear our doubts and confusion on the Act!! Feel much more reassured and relieved😅🤗🙏!! @ITarunRathi https://t.co/bo1KgJH2zH

— Shaan (@singer_shaan) January 6, 2020
When a Twitter user asked him why they should support CAA, Shaan agreed to clear any confusion they had about the act.
CAA se judey muddey pe aapko confusion ya takleef hai .. ?! Batayiye .. toh main uss confusion ko clear Karu.. (Twitter mein limited words hain na) https://t.co/3coIMxCiFm

— Shaan (@singer_shaan) January 6, 2020
However, Shaan ended up mostly arguing on the need to link CAA with National Register of Citizens (NRC).
Wher are you getting these charts/ graphs??? What is your source? https://t.co/XAxXooiZk3

— Shaan (@singer_shaan) January 6, 2020
Why are you discussing NRC when I'm talking about #CAA ???!?

All the chaos around #CAA is coming from Fear Psychosis that stems from #NRC ... but IndiaWide NRC is not even in the picture yet ... so what's the fuss about .. wait till you know the facts!! https://t.co/IOqKyHo3Xs

— Shaan (@singer_shaan) January 6, 2020
He felt offended when a Twitter user pointed out that he and his fellow invitees were having dinner with 'monstrous oppressors' when the country was 'burning.
You should ashamed at yourself to think like that !!! Kisi ko chhota karkey koi bada nahi hoga ... We were there for a dialogue and to put forth thoughts and fears .. we were heard and given sufficient information and explanation. Dont turn everything dirty .. #growup https://t.co/jC69OTXHI5

— Shaan (@singer_shaan) January 6, 2020
And why is country burning ??!? Why should it burn ??! You want it our Country to Burn??! Stop escalating the damage for god sake .. do you want an Emergency State??!? Just calm down https://t.co/jC69OTXHI5

— Shaan (@singer_shaan) January 6, 2020
He did try to answer a couple of questions, but they felt like propaganda machinery than clear-cut answers.
1. 40k Rohingyas in India ... almost 8lac Rohingyas in Bangladesh ...If we let them have citizenship .. you know what happens next ..

— Shaan (@singer_shaan) January 6, 2020
2. Cut off date is a must ... or we will never be able to stop infiltration ... I don't see why that's even guestioned https://t.co/ChAt8PmQCC

— Shaan (@singer_shaan) January 6, 2020
Finally, he got tired and ended the Q&A with an emotion, equivalent of throwing your hands up in the air in frustration.
BTW @WhoNehr is the only one person who had legit questions .. But this is really pointless.. dealing with negative, spiteful people..appalled .. I've been around over 25yrs and still going strong .. don't need to suck up to politicians or anyone !! Never did..never will. Period

— Shaan (@singer_shaan) January 6, 2020
Sahi kahaan Chacha ne... yahaan kisi ki soch aur wehem ko badalna fizool hai ...

have to be on stage in 40 minutes #Kolkata First gig of 2020 .. 8 more this month ... Wish me luck !!! actually don't bother ... 😂😂😂 https://t.co/Oko77awlZM

— Shaan (@singer_shaan) January 6, 2020
Shaan's attempts to explain CAA didn't go down very well with the Twitterati, especially his refusal to see the 'chronology' in CAA and NRC. Many of them questioned him why Amit Shah was linking the two in his rallies, while others joked that he is merely throwing up what he had for the controversial dinner.
Check out some of the Twitter Reactions to his tweets.
Tweet #1
Hello @singer_shaan, are you suggesting that @AmitShah was lying when he repeatedly explained to us the chronology of NRC AND CAA and promised to implement it nationwide? https://t.co/WZ9nGlpkVH

— Pratik Sinha (@free_thinker) January 6, 2020
Tweet #2
Looks like this man was at the "scrumptious dinner" with Piyush Einstein last night.

If not, he's definitely vying for an invite to the next one. https://t.co/YQGrJAYBNT

— Saket Gokhale (@SaketGokhale) January 6, 2020
Tweet #3
Pathetic the levels such respectable celebs stoop to just to maintain a good repo with the men in power. Ironical that he's the one here calling for a fact check. Maybe go check Amit shah's million speeches about how CAA and NRC were meant to be implemented in conjunction? https://t.co/4001LpuK5q

— Shivanshu Madan (@ShivanshuMadan) January 7, 2020
Tweet #4
Fascism mein first, baki sab mein fail,

Aao yaaron hum se sikho

Bootlicking yeh khel!

Chron-ology m-o-d-i ology https://t.co/qG0cWGpOkF

— Samit Basu (@samitbasu) January 6, 2020
Tweet #5
That must have been some really good dinner. https://t.co/DqsupVXTBg

— Reeeee (@boorbuck) January 7, 2020
Tweet #6
Khana khaya

Paisa khaya

Ab haramkhor gaali khayega https://t.co/TiHjbBPL9H

— 🎅🏽Against CAA + NRC (@FarziVakeel) January 6, 2020
Tweet #7
That's yesterday's dinner - with the regime's propaganda team - being excreted in full public view https://t.co/lqnguKcMo3

— Yeh Log ! (@yehlog) January 6, 2020
Tweet #8
Because the union Home minister has explained the chronology and linked CAA to NRC. https://t.co/41Kz3jgOlH

— Saikat Datta (saikatd@mstdn.social) (@saikatd) January 6, 2020
Tweet #9
Lagta hai aapko dinner pe CHRONOLOGY nahi samjhayi gayi. https://t.co/0p0InyYRLC pic.twitter.com/GiIoZhbhWd

— Hasiba 🌈 (@HasibaAmin) January 6, 2020
After missed call campaigns disguised as sex chat numbers and Bollywood dinners, we wonder what's the next move of the government to gain support for the CAA act. As for Shaan, he is quite living up to the 3 Idiots song that he popular sang, "Bhaiyya, Aal Izz Well!"