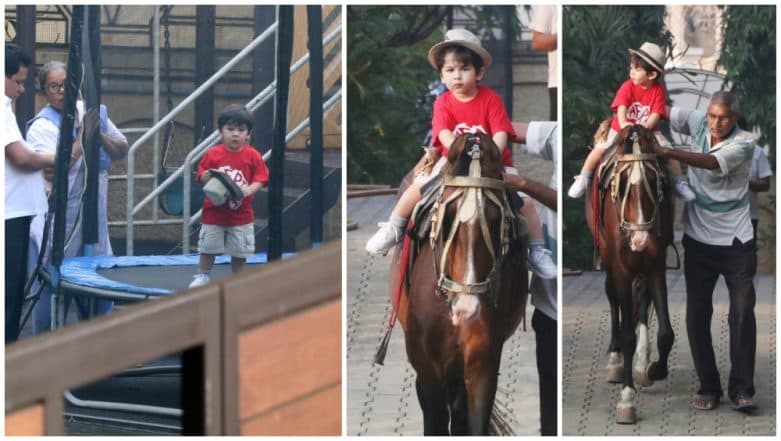 Taimur Ali Khan and his shenanigans! Can fans and paparazzi have enough of it? No! Can his pictures and videos escape the giant social media platform? No! Then how can we expect these adorable pictures not to go viral? So, Kareena Kapoor Khan and Saif Ali Khan's baby boy was now seen horse-riding! We are not even kidding. The cute baby was seen sitting on a horse, all perplexed and excited. Taimur Ali Khan Is Having a Merry Time as He Gets a Ride on Dad Saif Ali Khan's Shoulders - View Pics.
In the pictures, we can see the 2-year-old toddler wearing a hat and a bright red tee, looking all set to go for his Sunday ride. While there were people to take care of him while he rode, the pics will definitely make you worry for his safety. But then, we're sure Bebo and Saif won't let him alone without taking prior precautions so chill!
Check out the pictures and video of Baby Tim's horse ride
View this post on Instagram
And Here's the Video
View this post on Instagram
Some More Adorable Pictures of Taimur
Baby Tim Tim is Having a Chillax Sunday!
Taimur's camaraderie with animals is another sensational thing on Instagram. The videos of him chasing or looking at the animals curiously always go viral. Earlier, he was seen feeding a cow along with nanny and trying to figure it out in his own cute way. Then, he was also seen pointing towards a cat who was staring back at him and Tim Tim wanted to hold it. Not just these but a video of him chasing a chicken too was a rage on the social media. Looks like, he is going to grow up to be an ardent animal lover. Coming back to these cutesy video and pics, when will this little guy stop to amaze us?