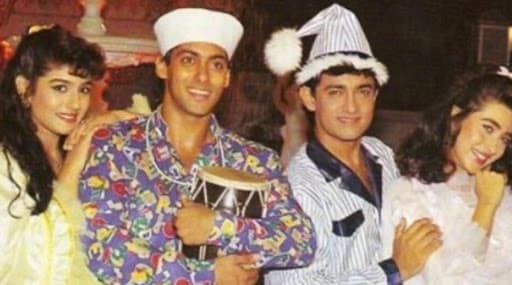 Andaz Apna Apna recently completed 25 years and we are still solving the mystery about why wasn't the film a hit when it released in 1994. Aamir Khan did say in an interview that not many knew the film was even releasing which hurt its prospects. Today it's a cult...something people can't get enough of. But don't get fooled by the happy vibe of the film because behind the scene, it wasn't as great as it was in front of it. Raveena Tandon who played Raveena in the film, revealed to Hindustan Times that none of the cast members were talking to each other.  Nach Baliye 9: Raveena Tandon and Maniesh Paul's Tiff Halts Shoot For One Hour!
Raveena reminisced, ""It was fun as while we were shooting, none of us were speaking to each other. Sabke jhagade chal rahe the. Aamir and Salman weren't talking to each other, Karisma and I weren't talking and neither were Salman and Rajji. I don't know how that film got made. But, it shows we are damn good actors (laughs). The boys tried to bring Karisma and me together. In fact, in the climax, there's a scene where Karishma and I are tied to a pillar. Rajji said, 'We won't untie you, unless you talk to one another'. It was all so funny. I remember, while shooting scenes, we would all genuinely laugh a lot as the dialogues were so hilarious. Hamne maze bhi kiye aur jhagde bhi kiye."
Well, Raveena is right. We have to give it to these not-on-speaking-terms cast to come out with such a hilarious film that we have watched so many times. BTW, the actress hasn't watched the whole film yet!