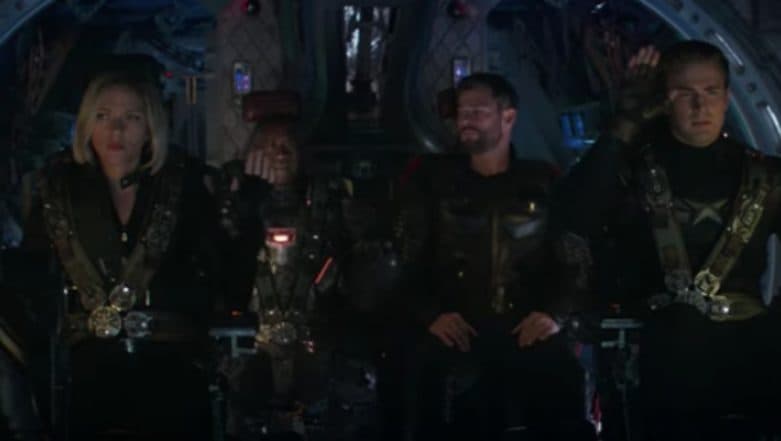 Avengers: Endgame is all set to release in a couple of weeks and we bet the excitement among Marvel fans across the world is super high. Ever since special 20-minute footage was shown at a press junket in Seoul, South Korea, the reactions about the film's emotional nature have been truly sending Marvel fans in a tizzy. Just in time to get you all pumped for the film, a new TV spot has now been released and it is enough to get you on-board for the final journey of the Avengers franchise. This new TV spot features Chris Evans' Captain America telling the Avengers squad, "This is the fight of our lives".
There's also a fun portion where Rocket Raccoon asks the members aboard his spaceship if they are first-time travelers in space. After Captain America, Black Widow and War Machine put their hands up, Rocket informs them that they are not allowed to vomit on his ship. We see Brie Larson's Captain Marvel smiling proudly here. In one of the other scenes from the footage, we see Captain Marvel in her binary form, which supposedly looks like on the Avengers Headquarters grounds. Box Office: Avengers Endgame Breaks Pre-Sales Record in China; Zooms past Infinity War and The Fate of the Furious.
Watch the new TV spot here:
The film is currently enjoying a massive hype across the globe. In terms of pre-sales, Avengers: Endgame has beaten its predecessor, Avengers: Infinity War's most tickets sold in 24 hours record. The film's pre-sales are yet to open in India but we can imagine what will happen once they do. Marvel has a massive fan base in India and hence, the film's co-director, Joe Russo even made a special visit to India to kick-off the film's Asia promotions.  Avengers: Endgame New TV Spot: 'This is the Fight of our Lives', Says Captain America and We're Pumped Up Already - Watch Video.
Avengers: Endgame is all set to release on April 26. The countdown is on as one the Infinity Saga comes to an end with this film.