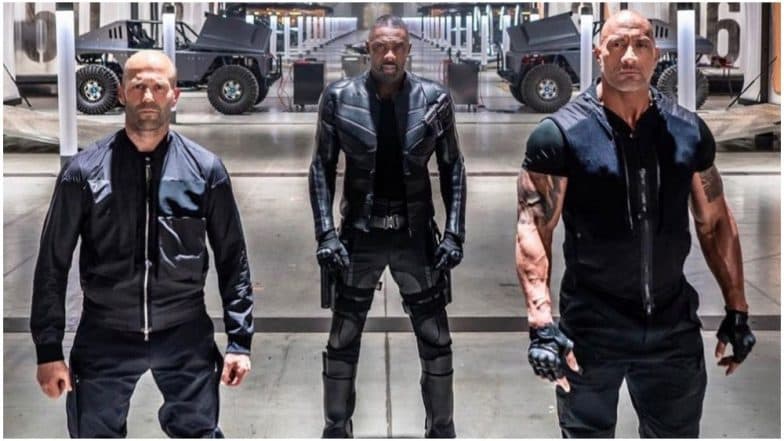 Hobbs & Shaw is the ninth film in the Fast & Furious franchise and the second spinoff of the series (if you consider the fourth film, Tokyo Drift as a spinoff). Dominic Toretto (Vin Diesel) and his team give the madcap ride a miss, instead, the protagonists are federal agent Luke Hobbs (Dwayne Johnson) and former British Special Services agent Deckard Shaw (Jason Statham). Their prickly bromance was the highlight of the previous film, The Fate of the Furious, and the makers of the franchise are wanting to capitalise on that with this spinoff. Hobbs & Shaw is directed by former stunt coordinator, David Leitch, who had earlier directed the first John Wick film and Deadpool 2. Hobbs & Shaw is releasing worldwide on August 2. Fast & Furious Presents: Hobbs & Shaw Movie Review: Dwayne Johnson and Jason Statham Give the Finger to Physics in This Slick, Entertaining Action-Comedy.
Vanessa Kirby plays Hattie, the female lead, an MI6 agent who is also Shaw's sister. Idris Elba is the antagonist Brixton, a superpowered henchman for a shadowy organisation, who wants a virus that is in Hattie's possession. It is upto the bickering Hobbs and Shaw to save Hattie and the world from Brixton who is hell-bent on using the virus to create, well, what else, genocide!
Apart from these actors, Dame Helen Mirren returns to play Magdalene, Shaw's mother. Cliff Curtis and WWE Star Roman Reigns play Hobbs' brothers while Eddie Marsan plays a scientist. Eiza González is Madam M, a Russian super-thief who has fling going on with Shaw. What's more, Hobbs & Shaw has two surprising cameos (SPOILER ALERT) that have been smartly preserved till the release. Deadpool man Ryan Reynolds plays federal agent Lock who had assigned Hobbs to his new mission, while Kevin Hart plays an Air Marshal who Hobbs and Shaw meet on a flight. Jason Statham in Hobbs & Shaw, Dwayne Johnson in the Scorpion King – 10 Times Where Movie Franchises Suddenly Turned the Bad Guy Into a Hero!
The movie ends with the Hobbs and Shaw defeating Brixton against all odds, and Hattie taking the virus completely out of her body. The ending also sets up a sequel when the mysterious leader of Etheon, the organisation for which Brixton was working, warns the heroes of future digressions. What's more, there are three mid-credit scenes in the film that you should not miss.
First Mid-Credit Scene
Agent Lock returns in what is an unusual setting where he looks to have beaten unknown henchmen to get into a room and calls Hobbs from there. He first confuses Hobbs' voice with his daughter and continues to insist that both have the same voice (they really don't), Lock then warns Hobbs of a new virus that has been stolen that could melt people from the outside, before ranting about how bad the last season of Game of Thrones was.
Second Mid-Credit Scene
This comes much later and is a continuation of the above scene. Lock claims that he has been shot and is losing blood. When Hobbs assures to save him and asks for his blood group, Lock says it is just like him -B Positive. Then Lock realises that the blood on his shirt is not his own and is of an assassin that he just killed. Lock also tells Hobbs that it is possible to stab and kill a man with a brick (earlier in the movie, when Brixton kills a man similarly, Lock wonders to Hobbs how this is even possible, since bricks don't even have sharp edges). While these scenes are darkly funny on the lines of Reynolds' own Deadpool series, is Lock really giving us a hint that there is something sinister going on within that crazy personality of his?
The End-Credit Scene
Earlier in the film, Shaw gets Hobbs detained by the airport staff to get rid of him by botching up his fake passport. Hobbs manages to get out of that plight, simply, as he says, with his 'charm'. In the end-credit scene, Hobbs pays back Shaw for that prank by calling him out to the cops, when Shaw was in a pub. As the cops surround the area, Shaw comes out of the pub calculating how best to escape from there, while warning Hobbs that he will bet back to him. Why the cops are after Shaw and how Hobbs really escaped from the airport authorities and got on the plane despite being a marked man are left unexplained.