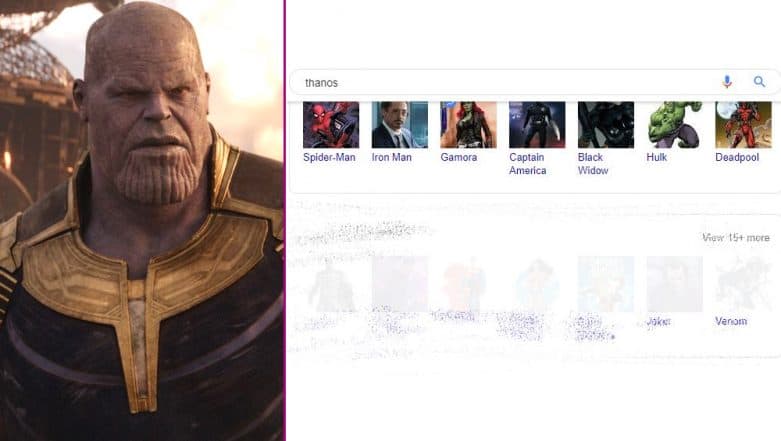 One teeny-tiny snap and bam, half the universe is wiped out! Well, of course, this sounds familiar. The Mad Titan, with the gauntlet of infinity stones, had erased half the universe in Avengers: Infinity War. Now, as we enter the Endgame, all eyes are hoping that the remaining superheroes can bring back the lost ones. Avengers: Endgame has released today (April 26) and is already establishing new records, breaking all the previous ones. Now, to mark the outstanding grandeur of the blockbuster, Google has gone into the Thanos mode and we can't quite keep up with the amazement! It is scary, fun and thrilling, all at once. Avengers EndGame Movie Review: Marvel's Superhero Film Is an Emotionally Wrenching, Enriching FanBoy Experience That Goes for Your Heart!
Google, on Thursday, began offering users of its search engine who did a simple query for Thanos. The search then triggers an Easter egg that presents the Infinity stones studded gauntlet in the upper right corner of Google's search results. Now, if you remember the power of that gauntlet, you might think of taking a step back and restricting yourself from snapping it. However, if you do have enough courage, let us warn you that it can destroy half your search results!
The search engine also gives you an updated count once half the results have vanished. The decline ranges from about 90 million results to just 45 million. Scary, right?
Don't believe us? Try it for yourself. Go to Google, type Thanos in the search bar, wait for the results. Once the results are on the screen, tap the Thanos' infinity stone gauntlet on the top right of the search results. Now, see what happens next! Avengers EndGame Box Office: 7 Records We Expect the Marvel Superhero Film to Break in India.
Here's the icon of Thanos' gauntlet you need to click on: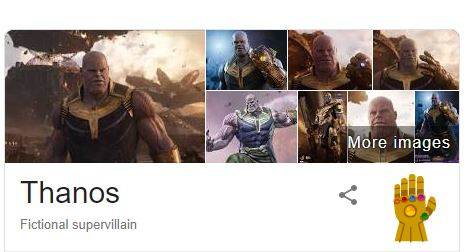 This is what happens when you do: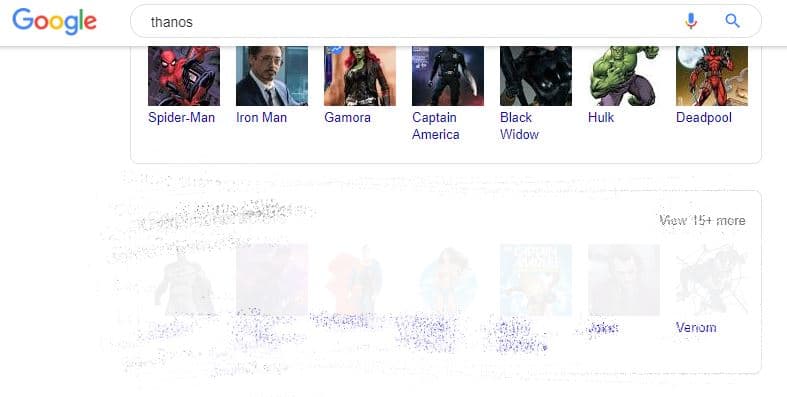 In the meantime, the review of Avengers: Endgame is in and it seems the film is living up to its hype. With the kind of advance booking the film has, it is expected to take a mammoth box office.