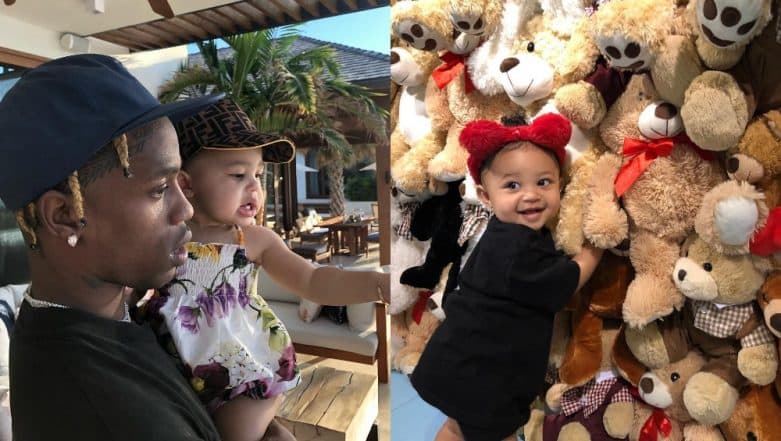 Kylie Jenner and Travis Scott's baby girl Stormi Webster turned one and had the best birthday wishes from her parents! After having teased fans for quite a long time, the news was finally out that Kylie and Travis had a baby girl. While the pregnancy was beautifully kept away from the media frenzy, the first picture of Stormi on Instagram gave Kylie the crown of 'most liked picture' on the picture-sharing platform!
Taking to Instagram with a completely adorable picture of Stormi, Kylie wrote, "how did I get so lucky to have such a sweet, smart, happy baby. I just couldn't have dreamt you up, storm. I wish you could stay this little forever and I could protect that contagious smile and laugh of yours. I know you won't remember much about the first year of your life but I pray that you'll never forget to keep sharing your joy and laughter with the world. my love grows for you a thousand miles a minute. every day with you is the best day of my life. happy birthday to my angel on earth. 🎈"
View this post on Instagram
Even Travis took to Instagram to share a sweet message for his baby girl in all caps! He wrote, "ITS MY QUEEN, MY HEART, MY AIR, MY EVERYTHING. STORMI'S BIRTHDAY TODAY. I LOVE U SO MUCH BABY. U THE SMARTEST AND LOVING BABY EVER. UR SPIRIT KEEPS ME GOING EVERY DAY ME AND UR MOMMY LOVE U AND CAN'T WAIT TO SHARE MORE BEAUTIFUL DAYS WITH U. HAPPY BDAYY STORMIII LETS RAGE"
Stormi did receive a lot of love from the entire Kardashian-Jenner clan as Kylie's sister Kendall, Kim, Kourtney, Khloe and others ensured to wish their young family member a happy birthday. So far details of how they celebrated her birthday haven't been revealed yet but we can only expect it to be a grand affair!