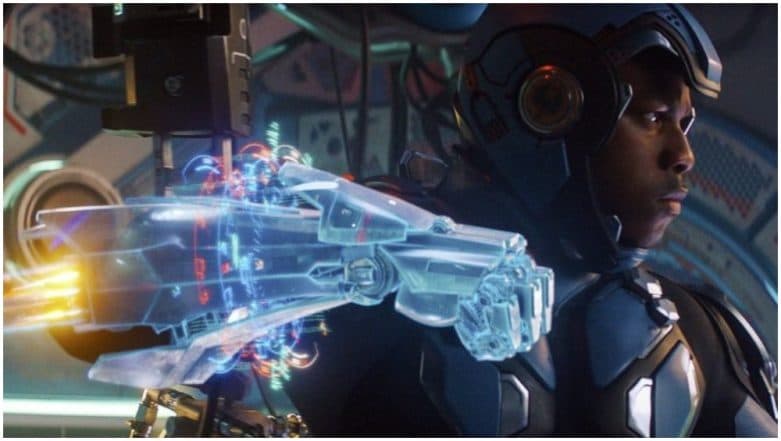 Pacific Rim is a cult movie that is quite popular among the geeks for the sheet concept of seeing robots battle with monsters. The first movie was directed by Guillermo del Toro, who recently won Academy Awards for Best Director and Best Film for The Shape of Water. While Pacific Rim was one of his weaker efforts and disappointed at the box office, it got a cult following and was a hit in the DVD circuit. The movie was also a huge hit in China.
Now five years later, the sequel arrives in the form of Pacific Rim Uprising. However, Charlie Hunnam, the lead actor of the first movie is absent from the proceedings this time, owing to date clashes with Papillon remake. In his place arrives Star Wars fame John Boyega, who plays the grownup son of Idris Elba's character from the first movie. Joining him are Scott Eastwood, Jing Tian, Cailee Spaeny, Adria Arjona, and Zhang Jin, with Rinko Kikuchi, Charlie Day, and Burn Gorman returning from the original film.
However, this time, Guillermo del Toro has relinquished the directorial reins to  Steven S DeKnight (making his debut here), and is content being the executive producer. And the critics, who got to see the movie in early screenings, feel this is precisely what's wrong with the movie as it lacks the touch of the Academy Award winner, making it by-the-numbers generic sequel.
We have gathered some of the reviews below.
CNet says, "Unavoidably, comparisons with del Toro stack up. Del Toro has a producing credit, but "The Shape of Water" seem to have made that influence minor. Gone are the epic fight scenes with animated rain crashing off Kaiju scales like "The Great Wave Off Kanagawa" painting it lovingly draws from. Gone, too, is the epic guitar-driven Ramin Djawadi score. (He's one of the best modern composers, with "Game of Thrones" cred.) Instead, Gipsy Avenger and its fellow robots give a lifeless back-and-forth exchange of scrappy metal punches. Buildings go down. Armour chinks. Rinse and repeat."
IndieWire says, "It's par for the course in a movie that has nothing on its mind but getting from start to finish in one piece — a movie that want to plug the hole in a sinking ship in order to strengthen the "Pacific Rim" brand and set it sailing towards a climactic final chapter. Depressingly, "Uprising" is never better than when it's setting up another sequel. By the time that movie crashes into theaters, our expectations for it might actually be low enough for it to surpass them."
Variety says, "While Lorne Balfe's score provides requisite bombast, what resounds loudest about "Pacific Rim Uprising" is its lack of adventurousness, to the point that it neuters its genre-splicing conceit's weirdest ideas — such as the metaphysical "drift" that binds the minds of Jaeger pilots, which here serves as just a tossed-off means of dispensing expository backstory."
IGN says, "Pacific Rim Uprising is a loyal, if unremarkable, successor to the giddy original. There's still a lot of fun to be had in the pleasure of watching Kaijus clash with Jaegers in spectacular, bone-rattling battles, and that's reason enough to see it for a certain crowd. But beyond that, Uprising leaves a lot on the table in respects to developing this potentially interesting post-apocalyptic universe and adding more than that single note. A disjointed script shortchanges at least half the cast in favour of letting John Boyega's star shine as brightly as possible, and that left me wishing a simpler, cleaner story had been told around the action."
Pacific Rim Uprising will release in India this week.