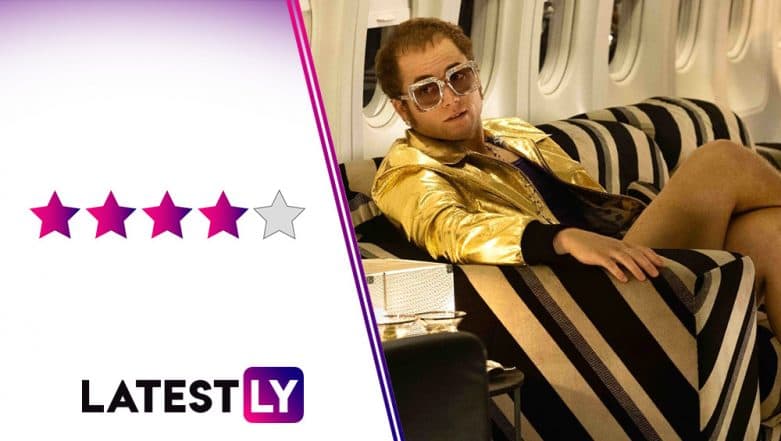 Wow. Just wow! As the movie progresses towards its culmination with Taron Egerton, as Elton John, stripping off from the flashy orange embellished suit with wings to a mere tracksuit, just one word slips out of my lips along with a sigh, wow! Dexter Fletcher surely knows how to curate a work that would make Sir Elton John a happy man, exhibit the flashy lifestyle he had and how he conquered his demons, all in two hours! Oh look at that, I almost forgot how the review style sheet works as I went overboard with my emotions about the film. Rocketman may not have seen a phenomenal promotional spree that it deserved but that shouldn't stop Elton John fans from heading to the theatres and enjoying the life of the legend in all its glory!
Taron Egerton could be the man to bring more pizzazz into the legend that Elton John is, but it is director Dexter Fletcher who makes every minute, every move and every song count in this biopic! Let's start at the top. The film begins with Elton prancing the hallways of rehab in a flashy orange suit with wings and devil horns to perhaps emphasise the perils of self-destruction mode that he has put himself in.
Anyway, he walks up to group therapy and announces that he is an alcoholic, a cocaine addict, bulimic, shopaholic and more to begin with. The scene then shifts to Elton facing himself as the young Reggie Dwight, who only longed for a hug and some compassion from his stoic father and narcissistic mother. Reggie's first attempt at playing keys at the piano was just the beginning for a whole new world that he never knew of. Hence, begins the whirlwind of ups and downs as he makes it to Hollywood, performs at LA famous club, Troubadour and finds a business-minded man he loves.
Watch the Rocketman Trailer here:
Although comparisons aren't supposed to happen, I simply cannot ignore the fact that Fletcher did the patchwork for Bohemian Rhapsody, the biopic of Queen band, starring Rami Malek as Freddie Mercury. Unlike how Bohemian Rhapsody followed a chronological order of fitting in music at places to showcase how the song came into existence, Rocketman simply works around the art of showmanship. Isn't that what Elton John is known for?
Well, Fletcher mixes up the vogue in Elton's costumes to that of the astounding tracks created by him with Bernie Taupin's (played by Jamie Bell) words to present a musical that reverberates passion and melancholy in it's sweetest forms! Julian Day's work as the costume designer really deserves a big applause, much like the uproar that Elton John caused with his first performance at the Troubadour. The direction is so sublime that you'll be wanting for more as you realise how it is coming to an end.
I cannot speak anymore of the brilliant use of symbolism throughout the musical as Fletcher plays around essential sequences such as the one with Bernie, walking away after the Troubadour success only to be replaced by the saucy invitation from John Reid (played by Richard Madden) who eventually becomes John's love interest and manager. This is a tumultuous phase that brings heartbreak, bitterness which all culminates to Elton John trying to take own life. Which reminds me, the whole sequence with him being taken to the hospital and recuperating is all done in one single track. Bravo becomes a word with little meaning as you see how beautifully the whole scene is shot!
Taron Egerton does justice to his role and does not shy away from boldly making out with Madden, brave enough to take on the cherry popping scene and even taking over the singing bit to bring more authenticity to the word musical! He is phenomenal and definitely deserves acclaim for his work. Perhaps no other actor could have accepted and played Elton John as perfectly as him. Especially with a supporting cast that is super strong, Egerton really makes the whole musical an experience of a lifetime!
Yay!
- Phenomenal direction by Dexter Fletcher
- Taron Egerton's outstanding performance
- Taron Egerton takes on the singing bit with utmost ease
- Richard Madden, such a heartbreaker with poise!
- Strong supporting cast
- Extravagant costumes
- Brilliant placing of songs in the film
- Leaves you overwhelmed
Nay!
- A rushed second half
Final Thoughts
With Rocketman, Dexter Fletcher has proved himself as a director who can piece together an outstanding musical. Taron Egerton has also shown critics how he can surprise them with his Elton John act. Needless to say, he is a man of many talents such as showmanship ( probably learnt it from Elton John), singing and out of the world performance! The film is a must watch, especially for those who enjoy music and musicals!