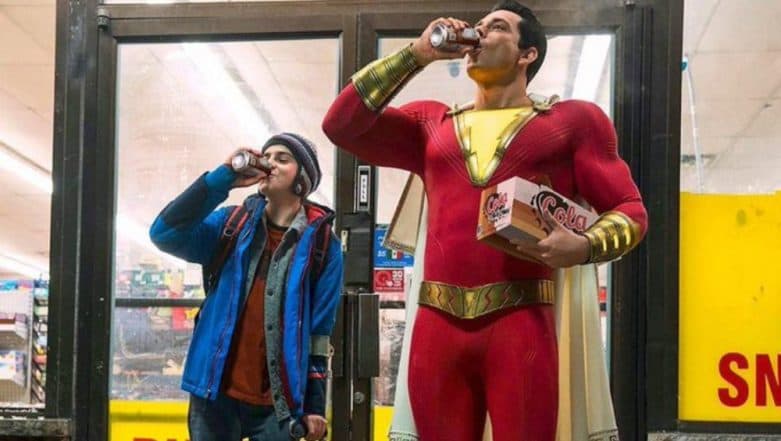 DC's next superhero movie, Shazam, is all set to open in theatres. The special screening of the film, featuring Zachary Levi, was held some time back. The social media embargo was lifted off the critics today and the first reactions to Shazam are the talk of the town. One thing is clear from these early reviews, the movie is amazeballs. Look at DC, reclaiming it all with the change in tone of the movies. After Wonder Woman and Aquaman, now Shazam is all set to rule the box office, it seems. Shazam! India Release Date Announced: Zachary Levi's Superhero Film Will Release in English, Hindi, Tamil & Telugu Languages.
The reactions below are spoiler-free, so need to worry. But in case you are one of those edgy dudes who can't see eye to eye with minor details, then...what's wrong with you? But yea also, you can turn away now. Shazam Actor Zachary Levi Hits Back At Captain Marvel Trolls, Asks Fans To Stop Pitting The Two Films Against Each Other.
Here are the first reactions to Shazam that say the movie kicks ass:
#Shazam was damn near PERFECT in my book. My FAVORITE DC movie (DCEU? What are we saying now?) by far. Pure of heart, incredibly funny, full of in-jokes and references. Brought me a childlike joy to watch. This role was MADE for @ZacharyLevi... & Jack & Asher & the entire cast pic.twitter.com/rVrxjcwvCe

— Ash Crossan (@AshCrossan) March 8, 2019
#Shazam is a super-powered BIG & I LOVED every second of it. A colorful, vibrant, vital addition to the DCEU. Vivid character-driven action, heartrending central relationships & fully earned, totally satisfying emotional moments. Super hilarious. Super thrilling. Super awesome! pic.twitter.com/KelHZ5YzFq

— Courtney Howard (@Lulamaybelle) March 8, 2019
Shazam! is another win for DC. Sure, the humor & action you'd expect from a superhero film are there, but #ShazamMovie stands out because of the emotional, family story at its center. I had some small issues with the hero/villain aspects but the family stuff is dynamic & powerful pic.twitter.com/FYM3QVp5hu

— Germain Lussier (@GermainLussier) March 8, 2019
DC is finally building a solid run: #Shazam is a delight! Its familiar origin structure is forgivable because of all the new it brings to the table - primarily it's gleeful, childlike enthusiasm, & heartfelt perspective on family. It's also the role Zachary Levi was born to play. pic.twitter.com/5zXtfFDBGm

— Eric Eisenberg (@eeisenberg) March 8, 2019
I absolutely loved #Shazam! It's my favorite DC film yet. Zachary Levi as Shazam was perfect casting and the kids absolutely steal the show. It's an amazing family movie with dope fight scenes and great humor! You guys are going to love it. pic.twitter.com/pZd5oORVA3

— Dorian Parks (@DorianParksnRec) March 8, 2019
#Shazam is parts Home Alone, parts Big, a crowd pleasing family-friendly joy-filled wish-fulfillment superhero film which gets a bit over the top and cheesy at times. It's fun and funny, and I was surprised at how much it wears it's heart on its sleeve.

— Peter Sciretta (@slashfilm) March 8, 2019
Zachary Levi was born to play #Shazam He delivers lots of laughs alongside co-star Jack Dylan Grazer. The film packs some big surprises for comics buffs and offers enough mainstream appeal to win over new fans. Shazam's strengths definitely outweigh its weaknesses. pic.twitter.com/kfFMW01jfO

— Jim Vejvoda (@JimVejvoda) March 8, 2019
Finally allowed to say that #Shazam was fantastic! Full of heart and pure childhood wish fulfillment. It's funny and the tone is exactly right. @zacharylevi is perfect in the role, and so is @asherangel, who I'm convinced is @maisie_williams' brother! pic.twitter.com/DXhp2ZBteR

— Jenna Busch (@JennaBusch) March 8, 2019
#SHAZAM! is pure joy that would have been right at home in the Amblin era. It has huge heart, loads of laughs, and even a few (welcome) scares. @ponysmasher combines classic charm and modern irreverence to create a thrilling superhero adventure for all. #SHAZAMMovie pic.twitter.com/3S7OYIjVos

— Sean Gerber (@MrSeanGerber) March 8, 2019
loved #Shazam. It's super fun, very funny (a few times people were laughing so loud I missed dialogue), and exactly what they set out to make: 'Big' meets Superman. @ZacharyLevi is perfectly cast but the real surprise is @Jgrazerofficial as Freddy Freeman. Steals the show. pic.twitter.com/ssvs8Dwc2P

— Steven Weintraub (@colliderfrosty) March 8, 2019
#Shazam was very very good. Sweet, funny, inclusive, charming. It encapsulates the wish fulfillment and wonder of superhero comics in a way that will appeal to kids whilst being filled with non stop surprises for big comic book fans too. I loved it. ⚡️❤️ pic.twitter.com/X4I9updTFV

— Rosie Knight (@RosieMarx) March 8, 2019
#Shazam is a laugh-out-loud funny romp that captures the innocence and challenge of being both a superhero and a kid at once. It's clever, fun and heroic with an obvious nod to 80s classics like Big, Ghostbusters, The Goonies etc. @joblocom @ShazamMovie

— Paul Shirey (@arcticninjapaul) March 8, 2019
With Captain Marvel heaping praises, DCEU is only around the corner to steal the thunder with Shazam. Are you excited to watch Shazam? With movies like Aquaman and Wonder Woman, it is evident that DC has cracked the code. We suggest you give both the movies a chance ek se bhale do superhero universes.