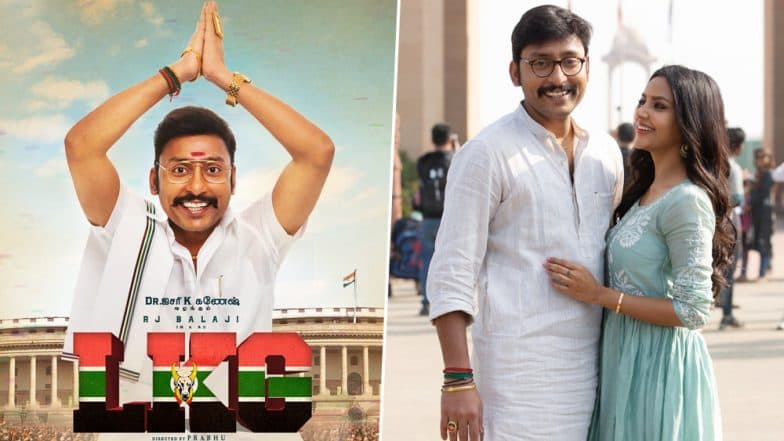 The much-awaited political satire LKG has released today (February 22). The cinephiles were eagerly waiting to watch this film starring RJ Balaji and Priya Anand in the lead roles. The film has released when the elections are around the corner. The eagerness to know the inside details of the political world is one of the reasons that will drive the cinema lovers to watch this film. Moreover LKG also stars politician Nanjil Sampath who essays the role of Balaji's father. As per the pictures flooding on the internet, morning shows were held in many areas down South and it seemed to be houseful. There are some who have already shared reviews of LKG on Twitter. RJ Balaji, Priya Anand-Starrer LKG's Tamil Anthem in Sid Sriram and Chinmayi's Soulful Voice Is Becoming a New Sensation, Watch Video.
Let's take a look at what Twitterati have to say about K.R Prabhu's directorial:
Tweet #1
#lkg 1st half

Non-stop entertainment of political spoof! #rjbalaji is cracking jokes with the current political incidents! Mixing corporate ideas through #priyaanand is right move for a heroine! Guaranteed fun so far! Dialogues are worth mentioning for eye opener!

— Asok (@itsmeasok) February 22, 2019
Tweet #2
#LKG - Neatly written and executed political satire. There are few logical loopholes and cinematic clichés but the job is done, the harsh reality of murky politics has been flawlessly portrayed.

— தர்ஷிகா (@THARZIKA) February 22, 2019
Tweet #3
#LKG full politically fun movie. @RJ_Balaji realistic act bold dialogue. @PriyaAnand lovely in All frames and awesome act.

Totally full paisa vasul #LKG

— Tamil Selvan. (@im_tamil10) February 22, 2019
Tweet #4
Just finished watched #LKG Laugh ride with good 'political' social message

Very good performance bro @RJ_Balaji

Welcome back beauty with a another good role @PriyaAnand really missed you.

Really enjoyed the movie #LKG

— Badsha (@kings_badsha) February 22, 2019
Tweet #5
#LKG A Must Watch Movie In Theatres Movie Can Enjyd By All type Of Audience @RJ_Balaji Nailed his Performance @PriyaAnand cutiee #5amMeritShowForLKG @RohiniSilverScr @rhevanth95 @NikileshSurya pic.twitter.com/PAQWQuDHQ4

— Mani Kandan (@ManiKan04496442) February 22, 2019
Tweet #6
#LKG 2nd half Review- After a laugh riot 1st half, a message to everyone on 2nd half climax place the crucial and highlighted. Sureshot watchable and hit for RJ Balaji with the support of @PriyaAnand #LKGReview #LKGfromToday #LKG Must watch and good time release ahead of election

— Vj Dinesh (@logindinesh05) February 22, 2019
Tweet #7
@RJ_Balaji Anna movie vera level. Unga performance nice. Last 5mins #LKGfromToday pic.twitter.com/XjBokCogBW

— Ranjith Sharma (@Im_Ran24) February 22, 2019
Tweet #8
#LKG RJ balaji successfully made his mark as a Actor and writter. A good movie to watch,totally blown by his dialogues in climax he carries so much positivity ,ignore logic and just enjoy the show. cast your vote right. #LKGfromToday @RJ_Balaji

— kevin sam (@kevinjohns88) February 22, 2019
Watch the trailer of LKG here:
RJ Balaji has essayed the titular role, Lalgudi Karuppiah Gandhi. This is the first time he has played as a main lead. There are also reports stating that it is Balaji who has penned down the script and the dialogues were written by technical writers Era Murukan and Pradeep Rangananthan. Stay tuned for further updates.