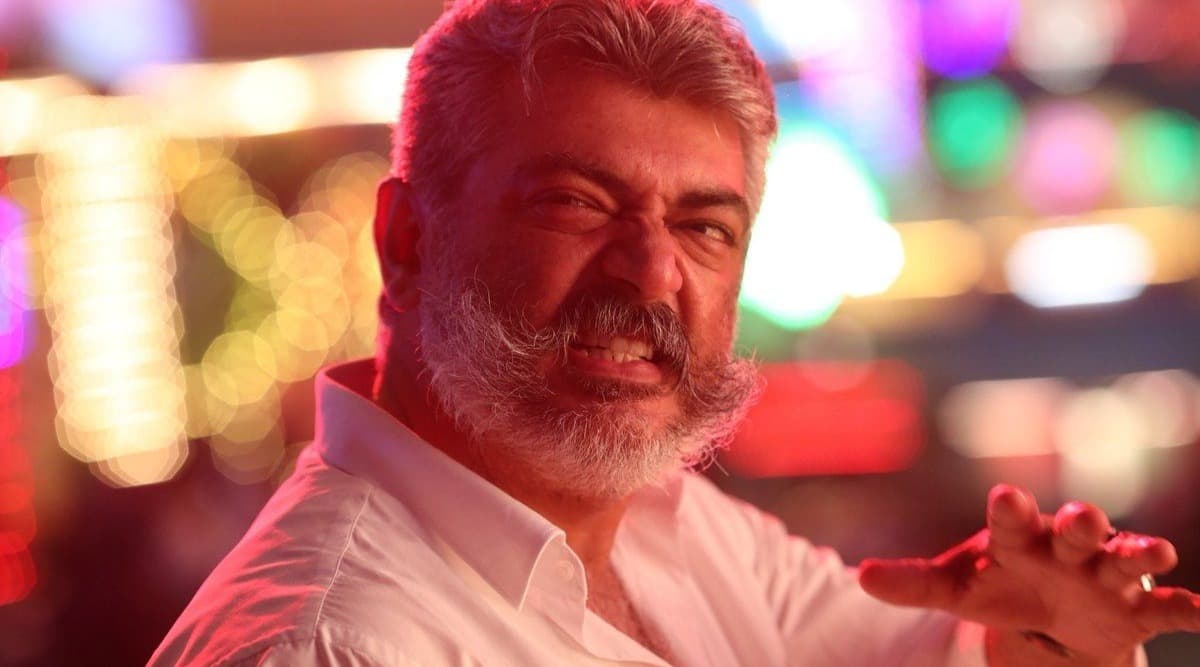 The Tamil film Viswasam starring Ajith Kumar and Nayanthara released on January 10 this year. The film turned out to be a huge hit in Kollywood, and the results at the ticket windows were enough to prove the same. The film has successfully completed 300 days of run and Thala Ajith's fans are celebrating it big time. Fans are using the hashtag #300DOfKWTopperVISWASAM on Twitter and celebrating the success of the film. Viswasam Becomes No 1 Twitter Trend In The first Half Of 2019! Fans ReJoice Thala Ajith's This Feat.
Viswasam was an action drama directed by Siva. From sharing facts to posters to stills from Ajith's film, fans of Thala just can't keep. Viswasam managed to earn more than Rs 200 crore at the box office. It was released alongside superstar Rajinikanth's Petta and yet emerged as a winner at the box office. It actually turned out to be one of the biggest hits at the Tamil Nadu box office. Fans are not only comparing it with Petta but also are happy to see this 'industry hit' film Viswasam have a successful run at the multiplexes even today. Rajinikanth to Team Up with Viswasam Director Sivakumar for Thalaivar 168?
Viswasam - Superhit Film
Block buster of the decade #Viswasam #300DOfKWTopperVISWASAM pic.twitter.com/5osZHSoLW2

— 🇲‌🇲‌ ᵛᵃˡᶤᵐᵃᶤ (@mememasters_off) November 5, 2019
Remarkable Movie
Rmarkable movie for thala fans nd general audience 💯❤️ pic.twitter.com/IqeV9j1vtV

— ⭐THALA ⭐ (@THALA41725850) November 5, 2019
Cutouts Mania
#300DOfKWTopperVISWASAM#Viswasam Movie Holds The Records Of Most Number of Cutouts Held In TN For A Movie Release 🔥🔥🔥🔥

Thala Ajith Mass level 🔥🔥🔥🔥 pic.twitter.com/J5K0n4XsEt

— ꧁☬ஜால்ரா பத்லுᵛᵃˡᶤᵐᵃᶤ 2.0☬꧂ (@UmamaheshwarT) November 5, 2019
#300DOfKWTopperVISWASAM
It's Been 300 Days Since #Viswasam Release And Its Records Yet To Be Broken🤘#AjithKumar --The Only One Actor In The Industry Of Indian Cinema Who Beat Superstar Rajinikanth On A Clash At His Own Territory State Since 1992🔥HISTORY TO REMEMBER FOREVER💥#300DOfKWTopperVISWASAM pic.twitter.com/iHrtDBE3O3

— மாதவன் || INDIAN🇮🇳🇮🇳 || NKP (@maddymadhavan21) November 5, 2019
Viswasam Box Office Collection
#Viswasam Movie 125 Crores Collected In Alone Tamilnadu In8 Days With Clash Superstar 😎

Most Profitable Movie Of The Year 2019🤘#300DOfKWTopperVISWASAM pic.twitter.com/iH2zjIzivw

— BILLA_HARISH (@Harish_Editz) November 5, 2019
Big Time Celebration
Here is the Tag to Celebrate Our THALA AJITH's All Time Blockbuster #Viswasam 300Th Day Celebration!! 🚀🎊

👉🏻 #300DOfKWTopperVISWASAM#Valimai

Let's Make it Remarkable Day..! 🏆 pic.twitter.com/XuT63yVhrG

— 《RockeySabaᵛᵃˡᶤᵐᵃᶤ》 (@sabapadhiAK) November 5, 2019
And Some Details...
🗞️ January10 - '#Viswasam' Historical Release Day

🗞️ February28 - '#Viswasam' 50Th Day

🗞️ April19 - '#Viswasam' 100Th Day

🗞️ July28 - '#Viswasam' - 200Th Day

🗞️ November 5 - '#Viswasam' 300Th Day #300DOfKWTopperVISWASAM 🌟 pic.twitter.com/Jvr2vKBw7O

— THALA ᵛⁱˢʷᵃˢᵃᵐ👑பிரபாகர் (@prabakar_raviRT) November 5, 2019
Never Ending Celebrations
#Viswasam Grand Celebrations #300DOfKWTopperVISWASAM pic.twitter.com/2ahEDRyAXN

— THALA AJITH (@ThalaAjith_Page) November 5, 2019
The Telugu-dubbed version of Viswasam was released in March 2019 with the same title and days later even the Kannada version with Jagamalla as the title was released. But these two versions didn't work as the original film did. Viswasam was the fourth project that Ajith and director Siva had teamed up for. They had earlier worked together in Veeram, Vedhalam and Vivegam.