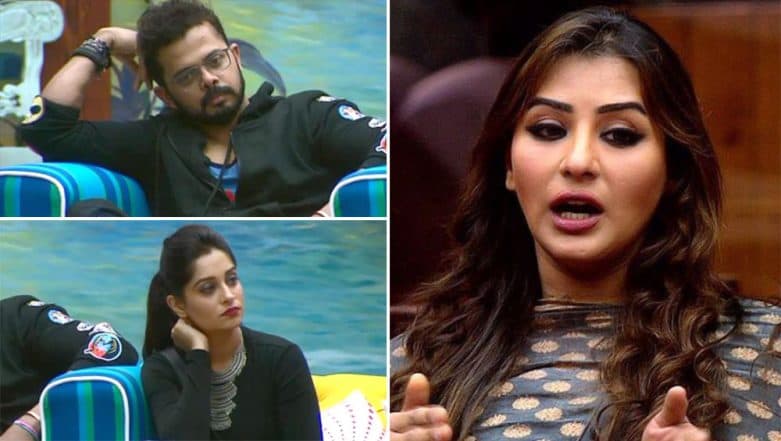 It's the finale week of Bigg Boss 12. Yep! The journey that started on September 16 this year is coming to an end on December 30 as we will finally get the winner of Bigg Boss 12. But what we do not get is 'What is Shilpa Shinde's beef with Dipika Kakar?' While Shilpa has always been a vocal about her support for Sreesanth, she is not really that fond of Sree's behena Dipika. Time and again, Dipika has drawn the ire of Sreesanth's fans on social media and Shilpa has been a part of them a few times. Bigg Boss 12: Gauahar Khan Justifies The Task She Gave Sreesanth; Gives Back Dignified Replies To All Those Who Slammed Her For Provoking Sree!
And after yesterday's episode, the Bigg Boss 11 winner made it very obvious that she did not really like Dipika. In short recap, Gauahar gave Sreesanth a task to convince Dipika to give away her nikaah dupatta and Shoaib's jacket but Sree refused to even attempt the task and got into an argument with Gauahar. Bigg Boss 12: Sreesanth MISBEHAVES With Houseguest Gauahar Khan- Watch Video!
While Twitter erupted in chaos over Gauahar and Sreesanth fans justifying their idols and their behaviour, Shilpa Shinde too voiced out her opinion and surprisingly she sided with both Gauahar and Sreesanth. See Shilpa's tweet below.
My 2 cents@GAUAHAR_KHAN absolutely flawless. She showed gr8 respect for #Sree Her intention was to test 'Behna's' sacrifice for 'Bhai'#Dipika lost chance to say "Bhai Maine aapke liye yeh 'bhi' kiya"#Sreesanth smartly refused to take additional burden of obligation

— Shilpa Shinde. Risk everything...Regret nothing... (@ShindeShilpaS) December 27, 2018
Shilpa surprisingly angled her opinion on how Sreesanth did not give Dipika another chance to say 'Bhai Maine Aapke Liye Yeh Bhi Kiya'.
Tonight's episode will also see the last Mid-Week eviction take place between Romil Chaudhary and Surbhi Rana. The two got the maximum votes from the rest of the housemates, to get eliminated.