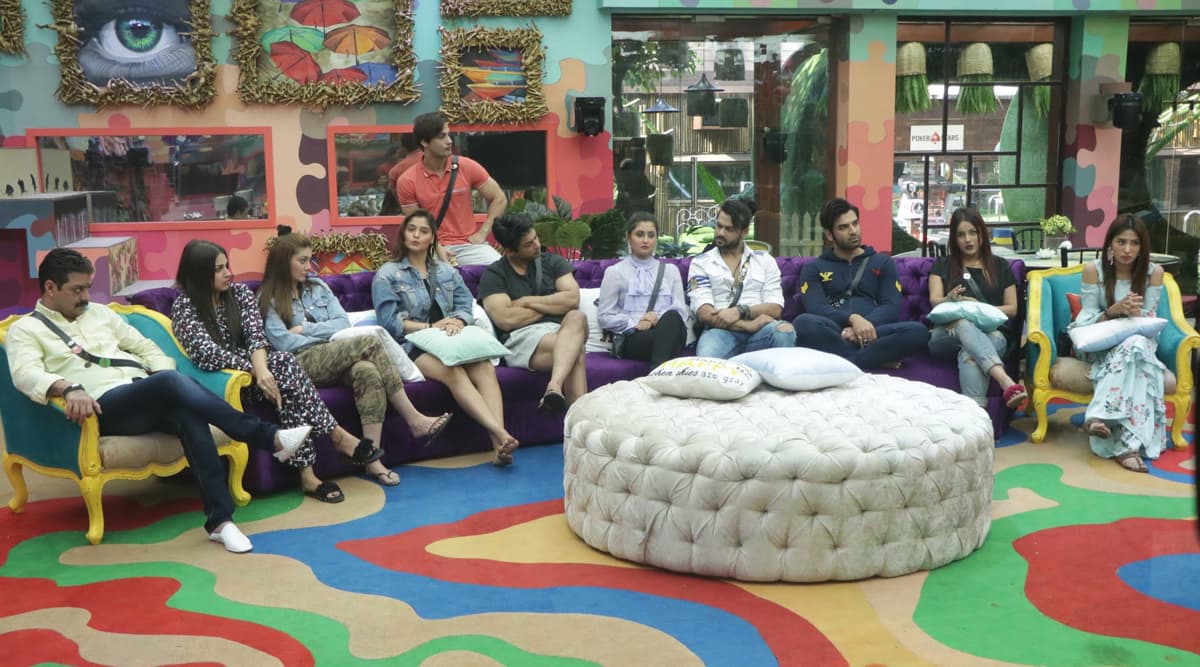 The beats of 'Right Here Right Now' pump up the atmosphere of the house and everyone gets on to their morning routine. Mahira, who is upset with Paras for his behavior, distances herself a bit, which Paras doesn't appreciate. They try to sort out their differences during the course of the day. Romance takes over as Rashami and Sidharth engage in a conversation where the sweet talk and pull each other's legs. This leaves Bhau and Shehnaz surprised and they start teasing them by singing romantic songs. Bigg Boss 13 Day 57 Synopsis: Asim Riaz Cooks a Heart-Shaped Paratha for Himanshi Khurana on Her Birthday, Makes It a Memorable One!
Up next Bigg Boss announces that the housemates have to select two contestants for jail punishment albeit this time around, there will be another twist. Since the contestants have not been taking the punishment seriously, he decides to make it tougher for them. The two contestants selected for the punishment will now have to take over all the household duties and relieve the remaining contenders of their chores. This gets tougher, as apart from the normal household work, more punishments will also be added along the way.   Bigg Boss 13: Salman to Get Rs 8.5 Crore Per Episode as the Show Gets Five-Week Extension.
The sudden change in Sidharth Shukla's behaviour is being appreciated by all the contestants and he is also proving to be a good captain. Bhau gets caught red-handed while stealing groceries from the luxury budget and captain Shukla gives him a stern warning. He says that if Bhau doesn't budge, he will have to face serious repercussions. Bhau apologizes for this and assures him that he will be careful going forward. Aarti stepped in and taunted Sidharth for not standing up and taking action against Bhau. She also adds that if he lets go of Bhau, he will have no right to punish anyone else. An agitated Shukla, tells Aarti to mind her own business and not interfere in his decisions. The argument escalates and Aarti decides never to talk to Sidharth again and walks away.
Later in the evening, Bigg Boss announces the 'Pokerstars- Ace of the game task'. Each contestant is assigned poker cards placed on a table that has three facts mentioned about them.  Two of the facts mentioned are true while one is a bluff. Aarti, Rashami, Hindustani Bhau, Asim and Vishal get cards with facts about them mentioned. Paras and Shehnaz are selected to guess the statement that is bluff. The one who manages to accurately catch the bluff is selected as the 'Best Bluff Catcher' and the 'Best Poker Face' title goes to the person who manages to confuse and bluff either Shehnaz or Paras.
Post midnight, contestants are suddenly asked to gather around in the garden area. A major scare takes over as contestants fear it could be a surprise eviction. To ease them of their nervousness, Bigg Boss makes an announcement that creates a celebratory atmosphere in the house. Congratulating them on the tedha season being a major success, he officially announces that the show has been extended due to the love and appreciation received by the viewers.