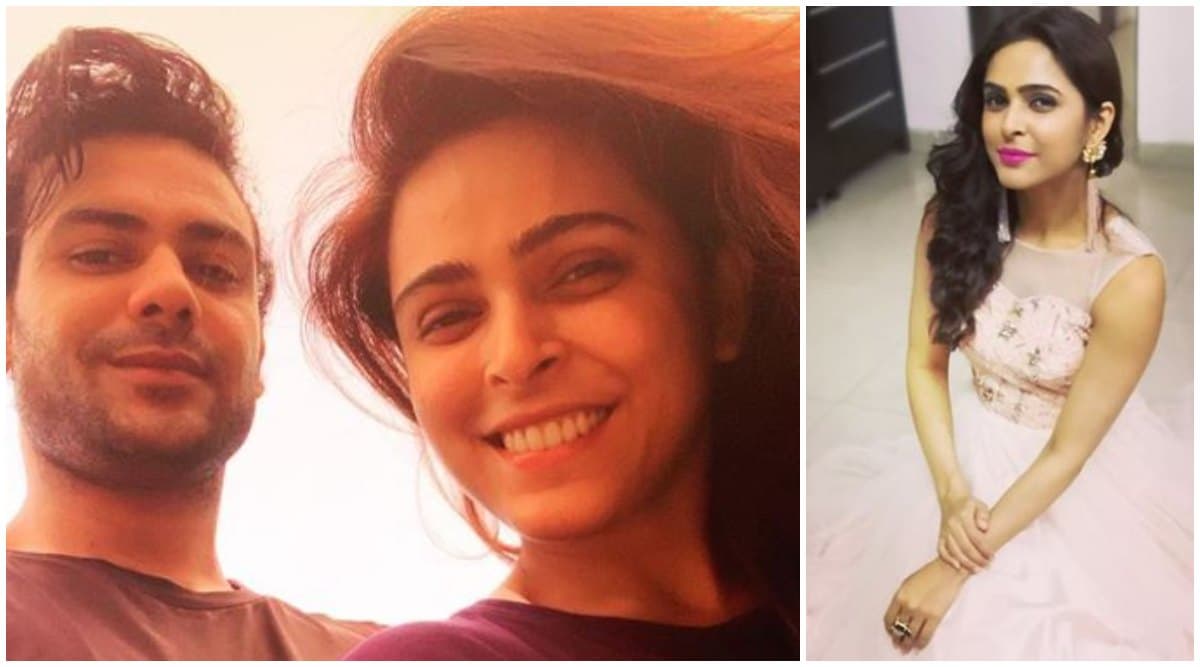 Actress Madhurima Tuli was the latest eviction from Salman Khan's reality show, however, but not before both she and her ex-boyfriend Vishal Aditya Singh got more than an earful from the host. For those who did not watch the episode, here's what Salman told them. He started by saying that the very fact that the ex-couple threw water on each other, was an 'insult' to water (yes, Salman indeed said that) and how it was 'shameful' of them to waste water when parts of India are still reeling with lack of water. He then pulled up Vishal for disrespecting Madhurima at constant intervals and also the lady for reacting violently to the former's behaviour. He then asks Madhurima Tuli to leave the show for the usage of violence in the house. Bigg Boss 13 Weekend Ka Vaar Highlights: Paras Apologises To Salman Khan Again.
And now, talking to BT, Madhurima, in a no holds barred interview, told the daily that Vishal had made it very clear from the day she entered the show that he did not want her in the house with him and how it was his plan all along to get her thrown out of the show. "Anybody in my place would have reacted in the same way or maybe more harshly. I reacted the way I did because he disrespected me a lot of times. Woh cheez waise nikalni thi aur nikal gayi. People get to see just an hourlong episode. So, they don't know what happens throughout the day and what I went through. He targeted my career. Uske liye mera career zero tha. Woh baar baar yahi keh rahe the, 'Tum mere paison par pal rahi ho aur tum meri wajah se ho yahaan. Tumhara koi wajood nahi hai, pehle woh banao... Chal phut yahaan se aur main tujhpe thookunga bhi nahin'. That's not how you talk to a girl. In fact, even Salman sir reprimanded him saying that no one talks to a guy like that, let alone a girl. Woh kitna jhelegi, phir ek dinn toh phootna hi tha," revealed Madhurima.
Elaborating on why she feels Vishal strategised to get her out of the game, Madhurima said, "Even when things were getting better between us, he would make me feel lonely. He went around giving good morning hugs and kisses to other women. Of course, I would feel bad about it. In fact, I felt disgusted by his actions; I felt left out. According to me, whatever he did, was done deliberately. It was his plan and strategy to make me feel lonely. It was clear that he didn't want me on the show and he said it when he saw me enter the house. His actions were all planned to get me thrown out of the show. He provoked me. I should have been stronger, but I was an emotional fool. I forgave him and tried to mend things again between us. I should have focused on my game rather than concentrating on him. I hold him responsible for being eliminated from the show." Bigg Boss 13: Shehnaaz Gill Says Sorry To Gautam Gulati After Thinking She Scared Him.
Watch Vishal and Madhurima's Video Below:
When quizzed about the hugs and kisses that the duo shared inside the house on multiple occasions, Madhurima clearly stated that she did not regret them. "No, I loved him. I don't regret those moments because that's when I realised what was happening with me wasn't right, as a result of which, issues between us escalated. Also, I didn't want to feel like I didn't give my 100 per cent to the relationship. So, I don't regret the romantic moments between him and me. Those moments made me realise that he was playing games just to be on the show and throw me out of it." Bigg Boss 13: Madhurima Tuli Posts Tweets Apologising To Viewers and Thanking Sidharth-Shehnaaz Post Her Eviction.
And very obviously, there is no chance that the pair might rekindle their romance outside of the house now. Stating that both herself and Vishal have now gotten 'closure', Madhurima revealed that her relationship with Vishal made her a 'negative and bitter' person and the chapter is now closed for her.