Now that's something we did not expect to happen. Dill Mill Gayye fame, Karan Paranjape, passed away yesterday in his house. The 30 year old TV actor was found dead in his apartment and the cause of death is still unknown. But sources claim that he suffered a heart attack in his sleep. He was found by his mother at around 11 in the morning. Close friends and family are shocked and saddened by his sudden death. The actor had also played the role of Jignesh in Sanjeevani. Karan Wahi expressed his emotions on Instagram and wrote, "U will be missed dear JIGS".
A close friend of the actor told us exclusively, "It's difficult to wrap my head around this news. Everybody is struggling to come to terms with Karan's untimely demise. You don't go away at 30 something, do you? Karan was full of beans. His presence was soothing and yet he had these infectiously positive vibes about him which were absolutely unmistakable. His head was full of crazy ideas, always. Apart from being a fine actor he was an aspiring filmmaker too. His death has come as a harsh reminder--Life's is so unpredictable and mysterious in so many ways. Miss you dude, will always do!!! Keep rocking always now that you have found a better place!"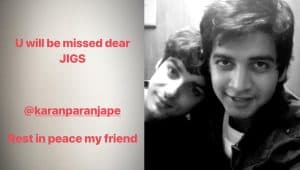 One of his closest friends, Sylvia Chawla also posted on her Facebook, "Often we take things for granted..Not realising how quickly they can be taken away from you.One day you're all laughing with that person and other day that face is no more.There's no way you'll ever be able to see or hear that person ever ever again.Such is Life— Unpredictable! Cruel !! I wish we all came with never ending expiry dates.I wish life was like those tv serials where dead comes alive after few months..I wish we could erase the memories that haunt us after someone is gone."
RIP Karan Paranjape.