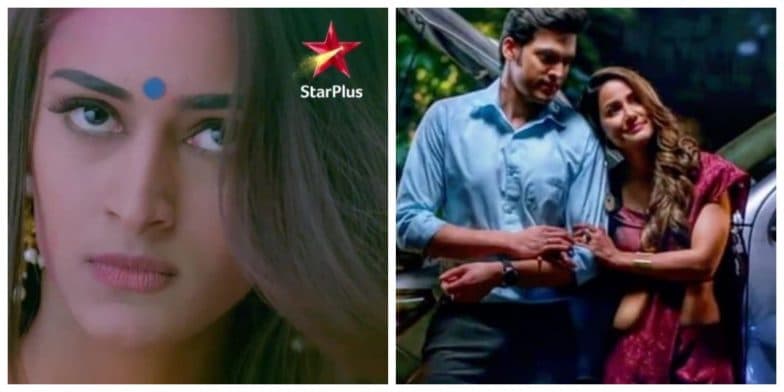 Today's episode of Kasautii Zindagii Kay 2 starts with Veena telling Shivani to close the door when the work is over and she will give her the list of materials. Just then the landline phone rings, Shivani picks it up but no one answers so she keeps it, again the phone rings but she could not hear anything and wonders who it might be. There Anurag (Parth Samthaan) thinks about Prerna (Erica Fernandes) as to how she used to hesitate before coming in his room and now she wants to capture his room and smiles. Anurag thinks why she is ruining her life by staying here but at the same time is very proud as for how she faced the whole family alone. Komolika (Hina Khan) who is very angry with Prerna as she challenged her, comes in the room abusing her and searching for her phone to call her Dad so that he will solve her problem. Seeing this, Anurag stops her from calling and tells that if she has any problem she should come to him and they both can together solve it and tells her not to disturb her father for such small things. Kasautii Zindagii Kay 2 March 14, 2019 Written Update Full Episode: Prerna Watches Anurag and Komolika Leave for Their Honeymoon
There as Shivani goes in the market for shopping, she sees someone following her and runs as she is scared and wonders who might it be. Suddenly the guy holds her and brings her aside. Shivani sees that it is Ronit. He asks her why she is running away from him and that he still loves her so much. They both argue with each other, Shivani does not want any relation from him as he is Komolika's brother and goes from there.
Mohini is giving her blessings as Komolika and Anurag are going for their honeymoon. Nivedita is very happy to see them go together. Komolika searches for Prerna and on not finding her goes to her room to tells her that she is going for her honeymoon as she will be sad, and Komolika wants to see the look but she is disappointed on not seeing her. Komolika and Nivedita both talk about Prerna and say she might have gone from here and are happy but see her standing beside the car waiting for them. Komolika asks if she is also coming with them, Prerna says that she just came to say goodbye. Mohini comes and says this is not that car which she booked but Prerna tells that as the driver was not well, she arranged a car for them. Mohini calls to confirm and gets to know that the driver is actually not well. Anurag asks Komolika to come with him and wave goodbye to all. Komolika is not able to digest the fact that how Prerna herself allowed them to go. Hina Khan Opens Up On Rumours Of Not Getting Along With Kasautii Zindagii Kay 2 Co-Star Erica Fernandes!
Nivedita is telling Mohini that Prerna will definitely do something. Mohini says they have to do something as she cannot see Prerna in Anurag's bedroom anymore. There Prerna is thinking about Anurag and her good times and how he had told her to plan about their honeymoon and where she wants to go and she had told him that she wanted to go to Kalindi Resort where Komolika and Anurag have gone.
Meanwhile, Komolika is still thinking as to why Prerna didn't object to them going for the honeymoon. Suddenly their car stops, the driver goes to check, he says that the car is having some problem and that they have to push the car to reach the nearby garage. Komolika thinks this all is done by Prerna so that they do not reach their destination. The driver video calls Prerna and shows her how Komolika is pushing the car and facing problems.
In the precap, Anurag and Komolika are on video calling and telling Prerna that she cannot do anything and that they are together with each other. Prerna tells to enjoy their honeymoon.