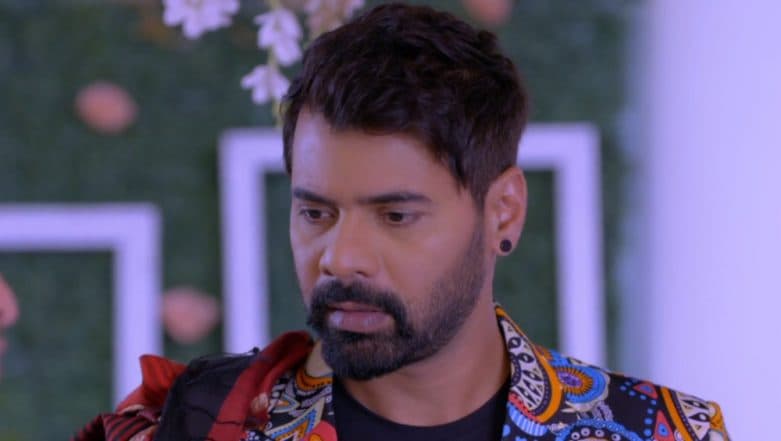 Today's episode of Kumkum Bhagya starts with Pragya (Sriti Jha) observing the waiter serving the guests. She finds everything is ok. Abhi (Shabir Ahluwalia) and Dasi also stands near Pragya but still, she cannot see them. At one point, Pragya comes to the place where Aaliya is standing, in the party. Later on, Pragya feels very hot so she goes to have some cool breeze in front of the cooler which is exactly behind Abhi. Her pallu comes over Abhi due to the wind coming from the cooler. He again feels her existence but before he sees her, Vikram takes him aside. He asks Abhi to make the announcement which is a surprise for Pallavi.
Abhi announces, Vikram and Pallavi to dance on the floor for them all as it's their anniversary. Vikram finds it awkward but later agrees to have a couple dance with Pallavi. Both of them dance fabulous on a romantic song. Abhi also imagines as if he is dancing with Pragya which shows that he still misses Pragya. Everyone clap for Vikram and Pallavi. Next performance is by all the youngsters in the family including Ranbir, Rhea. Abhi sees Prachi enjoying to watch the performance. He asks Aryan to take Prachi along with them for dance. But Rhea doesn't like it. When it comes to Ranbir and Prachi dancing, both of them doesn't feel comfortable with each other. After a while, Ranbir sees Rhea falling down, he leaves Prachi which makes Prachi fall down but he handles Rhea. But Rhea gets upset as Abhi checks whether Prachi is fine and not her. Rhea gets hurt and goes out of the party. Abhi goes behind her. Aaliya also thinks as Abhi cares more for Prachi than Rhea. Meetali feels that Prachi is just like Pragya so he might be seeing Pragya in Prachi.
After a while, Rhea keeps on walking thinking about Abhi's behavior with Prachi. By that time she meets Pragya, who compliments Rhea for her look. Rhea gets emotional and hugs Pragya. Rhea tells Pragya to ask Prachi to stay away from her. She feels relaxed after talking to Pragya. Meera wonders to see Rhea calm down immediately without getting hyper. On the other hand, Purab gets irked as Aaliya tries to be too touchy with him. He blames her for pretending wrong in front of Aryan about their relation. Aaliya reminds Purab about the reason they got married.
Meanwhile, Pragya comes back to the kitchen. Shahana tells her that she took good care of the food kept for cooking. Later on, while leaving from the kitchen, the door gets closed. Pragya tries to open it but the door seems to be locked. Pragya gets tensed. She keeps shouting out for help. Rhea hears her voice. She tries to open the door but the door doesn't get open. Pragya gets scared as she has claustrophobia. Rhea also gets tensed as she also has claustrophobia and can understand her problem.