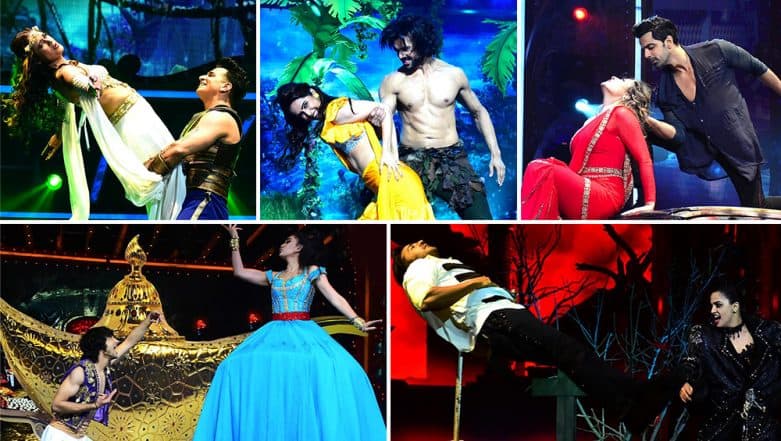 Tonight's episode of Salman Khan's Nach Baliye 9, continued with its fantasy theme, where the remaining couples Shantanu and Nityaami, Anita and Rohit, Prince and Yuvika, Urvashi and Anuj and Vishal and Madhurima performed. With the bar of performances only rising with each passing week, we see that tonight's episode of the show makes it very difficult for judges Raveena and Ahmed to decide on which Jodi will they have to eliminate. We have already reported that Urvashi Dholakia and Anuj Sachdeva bid goodbye to the show, but not before giving the audience a memorable sizzling performance. Nach Baliye 9: Urvashi Dholakia on Working With Anuj Sachdeva - 'It Was The Best 2 Months Spending Hours Working With You And This Is Just The Start'.
The episode starts with Madhurima Tuli's mother coming on the show to try and make peace between her daughter and her ex-boyfriend Vishal Aditya Singh.
Madhurima's maa is here to resolve the conflict between Vishal and Madhurima! ❤️

Tune in to know if she finally puts an end to #ViRimaKeJhagde #NachBaliye9@vishalsingh713 @ItsMadhurima19 @Iamwaluscha pic.twitter.com/kNgW4TAIVW

— StarPlus (@StarPlus) August 25, 2019
Her mother requested Vishal to respect Madhurima and vice versa. She told both of them to behave in a decent manner as they are in the public eye and people tend to follow them.
The first performance of the night was that of Shantanu Maheshwari and Nityaami Shirke, and their Alladin and genie act won them yet another Hi5, a standing ovation from everyone and also a special mention to their choreographers.
This extraordinary Aladdin-Jasmine pair, Jodi No. 9 - #NiShan surely have raced our heartbeats with their fascinating performance!@shantanum07 @nityaamishirke#NachBaliye9 pic.twitter.com/cRrkg00KU9

— StarPlus (@StarPlus) August 25, 2019
Rohit Reddy and Anita Hassanandani's Horror-cum-magic act literally scared the hell out of everyone, with their act and also after seeing the level that they took their this week's act to. The pair also won a standing ovation and also another Hi5.
Comment ⚡ if #RoNita's thrilling performance has sent chills down your spine!

Is this a Hi 5 for Jodi No. 7?@rohitredz @anitahasnandani#NachBaliye9 pic.twitter.com/8vkM4zSjFf

— StarPlus (@StarPlus) August 25, 2019
Performance:
Yet another highlight of tonight's episode was Prabhas getting to fulfil his long-cherished dream of dancing with Raveena Tandon to Tip Tip Barsa Paani. And the icing on the cake was the fact that Raveena was in the trademark yellow saree and Orabhas sporting matching yellow glares.
Next up were last week's Hi5 jodi Prince Narula and Yuvika Chaudhary's soothing warrior and princess act won them perfect comments for the execution of the theme but Raveena and Ahmed pointed out mistakes.
With chemistry so in tune, Jodi No. 5 - #PriVika's magical performance have cast a spell on us! ❤️@princenarula88 @yuvikachoudhary#NachBaliye9 pic.twitter.com/9YMNWCmMP7

— StarPlus (@StarPlus) August 25, 2019
Performance:
Nach Baliye 9's Kabir Singh Jodi Vishal Aditya Singh and Madhurima Tuli performed a Mowgli themed to Raveena's iconic song Tip Tip Barsa Paani won them a standing ovation from one and all. And we have to say, Madhurima and Vishal killed it and it had to be the couple's best performance by far.
Comment ⚡ if Jodi No. 6 #ViRima's act blew you away.#ViRimaKeJhagde@vishalsingh713 @ItsMadhurima19 #NachBaliye9 pic.twitter.com/rpt0lFE3Fp

— StarPlus (@StarPlus) August 25, 2019
Performance:
Ex-couple Urvashi Dholakia and Anuj Sachdeva's tonight's performance oozed so much chemistry that it did make us question if they indeed are an ex-couple. The pair got a standing ovation from the entire studio and Raveena and Ahmed were seen visibly left confused. Unfortunately, this was the duo's last act on the stage of Nach Baliye 9 as they were eliminated.
We just can't enough of Jodi No.3 #UrUj as they unfold their fiery chemistry and a gripping act!

Comment 🔥 if you think this act is LIT!! @Urvashi9 @ApnAnuj #NachBaliye9 pic.twitter.com/dFrxYJPlbq

— StarPlus (@StarPlus) August 25, 2019
Performance:
Judges Raveena Tandon and Ahmed Khan were shown to have re-watched Vishal-Madhurima and Urvashi-Anuj's performances as it was a pretty close call between the duo. In fact, Raveena Tandon even broke down before announcing the elimination.
Who are you rooting for?

Comment 🔥 for Jodi No. 3 #UrUj or 💣 for Jodi No. 6 #ViRima@Urvashi9 @ApnAnuj @vishalsingh713 @ItsMadhurima19 @ManishPaul03#NachBaliye9 pic.twitter.com/HmgF6CxuKc

— StarPlus (@StarPlus) August 25, 2019
All in all, amazing performances, some drama with Madhurima's mother coming on-stage and talking to Vishal and the heart-breaking elimination of Urvashi Dholakia and Anuj Sachdeva, summed up the fantasy-themed weekend on Nach Baliye 9. Stay Tuned!