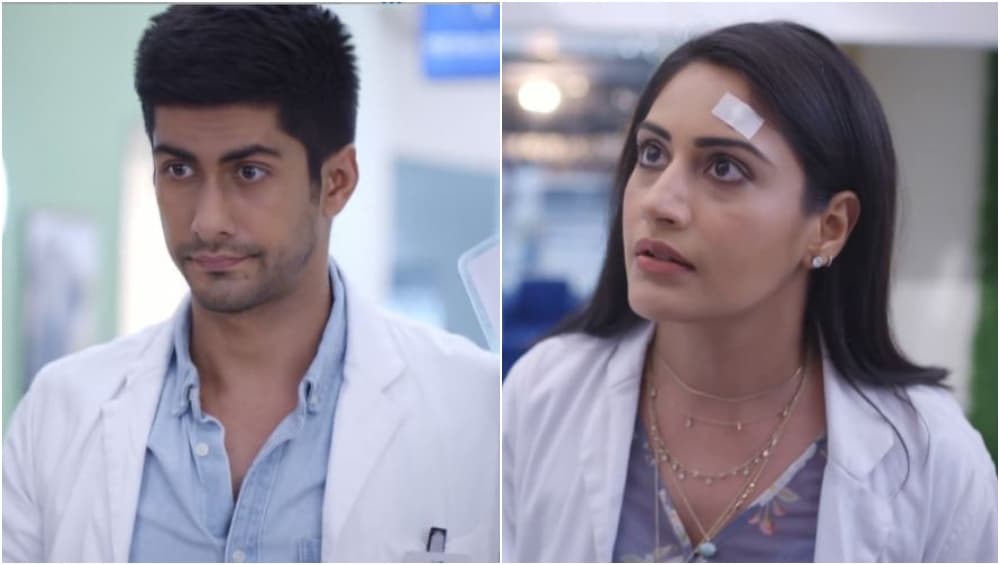 In yesterday's episode of Sanjivani 2, we saw Sid is unimpressed with Ishani's dance number while Shashank decides to confess the truth to Juhi. Sid's mother Roshni consoles a dejected Ishani. Tonight's episode starts with Sid (Namit Khanna) coming home and seeing Ishani (Surbhi Chandna) there. She tells him that his mother and uncle have gone for a Jagrata and the room was messy, so she was cleaning it, and says this won't work after marriage. Sid recalls Malvika saying the same thing and gets angry. Ishani asks him to wear a coloured shirt, but he throws everything and goes. Ishani is shocked by his behaviour. Meanwhile, Sid recalls Malvika's death. He asks Ishani to just leave and hurts himself by punching the wall and she leaves. Sanjivani 2 October 24, 2019 Written Update Full Episode: Sid Warns Ishani to Stay Away
On the other hand, when Anjali (Sayantana Ghosh) turns, Vardhan (Ronit Roy) holds her from behind. They both flirt with each other. Later, Anjali tells Vardhan that they are in the hospital and anyone can see them, he says no one will see and holds her, just then Shashank (Mohnish Bahl) comes and sees them both and berates Anjali. Meanwhile, Ishani recalls Rahil's words. She goes back to Sid and sees him crying. Ishani tries to get through the door and looks inside the window. She calls Roshni and tries to open the door bolt and gets inside. She sees Sid who drinking liquor. When Sid sees Ishani he throws the bottle. Ishani tells him she will not come close to him, but suddenly they both fall on the bed. Ishani cries and hugs him while trying to save him from broken glass. Sid tells her not to hurt him more and says she will die because of him and his ill fate will kill her. Later Sid cries and says he is unlucky and does not have the right to love anyone and gets emotional.
On the other hand, Shashank takes Vardhan inside the cabin and Anjali looks on. Shashank warns him to stay away from Anjali, but Vardhan laughs and says Anjali is an adult, not a teenager. Shashank says he knows it is his plan as he wants to take revenge from him. Anjali gets in and tells Shashank that he is the problem as it is her personal life, like his. Vardhan smiles. Anjali takes Vardhan out of the room. Vardhan says Anjali will get late while coming home, it may get morning, don't wait. Shashank gets emotional and cries. Sanjivani 2 October 22, 2019 Written Update Full Episode: Sid Shocks Ishani With an Announcement After She Challenges Him To Confess His Feelings
Back in Sid's home,  Sid says they loved each other and were going to marry, but she died in an accident. He asks Ishani to go away from his life as he does not want anything to happen to her. Ishani hugs him, Sid says he loves her a lot and they cry. Sid says he can't live with this love.
In the next episode, Ishani says they both are unlucky but they can get positive together. She tells Sid to come home and goes.