Scott Pilgrim Takes Off Series Review: Once you're introduced to a franchise like Scott Pilgrim, it's impossible to turn away. After seeing the 2010 Edgar Wright film Scott Pilgrim vs. the World, I developed an obsession with that world and started reading the Bryan Lee O'Malley comics in addition to playing the video game. So, when I heard that an anime based on Scott Pilgrim is set to hit Netflix, I jumped with excitement to see the comic's art-style be brought into animation. However, what I got was something way different – and while I was initially disappointed, by the end of it I couldn't help but appreciate the subversion the show brought along with it. Scott Pilgrim vs the World: Michael Cera, Chris Evans and Mary Elizabeth Winstead All Set to Reunite for the Anime Version on Netflix.
Developed by BenDavid Grabinski and Bryan Lee O'Malley, Scott Pilgrim Takes Off sees Scott Pilgrim (Michael Cera) fall in love with the elusive Ramona Flowers (Mary Elizabeth Winstead), only to find out that he will have to defeat seven of her evil exes to actually be with her. And while the show might seem like a direct adaptation of the books, it swerves into a different territory that no one will anticipate. So, if you want to avoid spoilers, then I would suggest you stop reading here – but, in a nutshell if you're a fan of Scott Pilgrim, then just go in with an open mind and there is a good chance you might end up loving it.
At first, Scott Pilgrim Takes Off seems pretty similar to the books, but it isn't until the fight with Matthew Patel (Satya Bhabha), where you see a shift in the narrative and realise that the show actually isn't about Scott Pilgrim at all. It actually follows Ramona Flowers seeking out her evil exes by herself. Gasps! I know; how can a show called Scott Pilgrim Takes Off not be about the series' protagonist and rather focus on his love interest – and as a fan I had the same question; however, the show does a brilliant job at answering it.
To be fair, Bryan Lee O'Malley's original story was very much a product of its day, and Scott Pilgrim Takes Off attempts to update it while keeping the spirit of the original work intact. This gives Ramona Flowers a lot more depth and a mature layer where we witness her confronting and accepting her past head-on. It's a fun and quirky tale that doesn't take itself too seriously, and that's all it really needs to be. Mary Elizabeth Winstead gets to flex those vocal cords, and brings in a performance reminiscent of her work in Scott Pilgrim vs the World.
Watch the Trailer for Scott Pilgrim Takes Off:
As a matter of fact, almost the entire cast from the film returns. Of course, you have Michael Cera back, but Chris Evans, Brie Larson, Brandon Routh, Kieran Culkin, Jason Schwartzman, Aubrey Plaza and more return to play their respective characters – and Scott Pilgrim Takes Off really helps flesh them out giving each and every personality their due time with some entertaining voice performances to offer. Also, a shoutout to the Japanese voice cast as well because they do an equally great job here.
If there was one thing though that I would knock it down for, then it would be the fact that someone new to Scott Pilgrim can't just jump into it. It would be recommended to read the books, or at least watch the film before checking this out because it stands as a complementary package to those. It isn't much accessible from the get go, and it certainly might have some confused.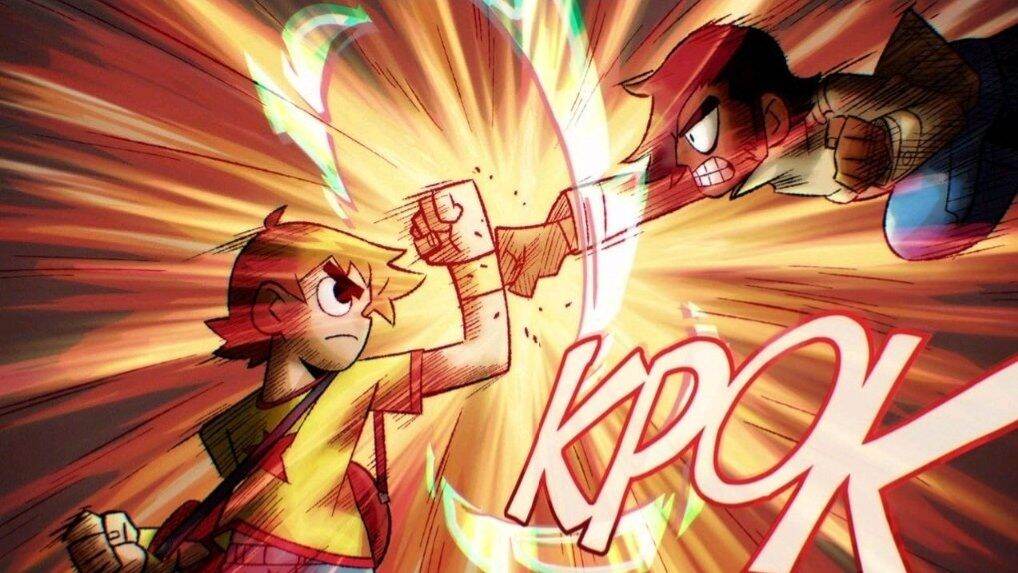 What Edgar Wright did so great with this property was that he took the videogame aesthetic of the comics and merged it with his own style. Scott Pilgrim Takes Off is unabashedly animated in the art style of the comic. It maintains that video game aesthetic and provides a retro feel that had me hooked from the first frame. Colours pop with a 2D style that's just a treat to witness. The animation work by Science Saru is mind-blowing here, and the action scenes on display are fun and explosive that won't have you looking away from the screen. Scott Pilgrim Teaser Out! Michael Cera, Mary Elizabeth Winstead, Chris Evans' Netflix Anime Series To Release On November 17 (Watch Video).
To go along with that popping animation is also a great soundtrack by Joseph Trapanese and Anamanaguchi that also consists of licensed songs, and it makes for a really fun time that I can't wait to revisit again. And while fans may be disappointed at the start, just stick along with it and you'll be witnessed to a show that is unabashedly rad in the way a Scott Pilgrim project deserves to be.
Final Thoughts
Scott Pilgrim Takes Off is an interesting franchise reset that somehow still maintains the quirkiness of its source material, and offers an adaptation that can stand apart from the books and the film. It's definitely not what many might have expected, but the show itself does a great job at bringing you into this world and taking you on an adventure that really is worth sticking around for. Scott Pilgrim Takes Off is streaming on Netflix right now.
(The above story first appeared on LatestLY on Nov 18, 2023 06:37 PM IST. For more news and updates on politics, world, sports, entertainment and lifestyle, log on to our website latestly.com).