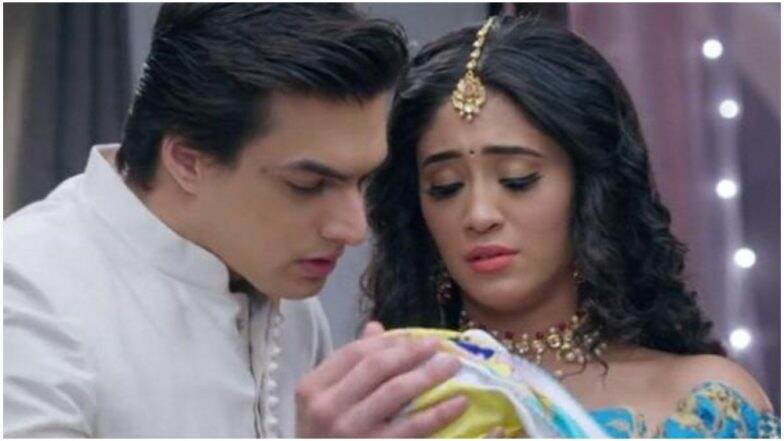 Today's episode of Yeh Rishta Kya Kehlata starts with Naira (Shivangi Joshi) giving the baby in Kirti's hand and tells Kirti to hold him and tell her that Krish is a very smart child and that don't go on his innocent looks, till now he was crying and see how he stopped crying now when he is in Kirti's arms. Surekha tells that someone told that Krish looks just like Kirti, Kartik gets tensed. Akhilesh tells that Krish's birthmark is also same as Kirti's birthmark. Suhasini tells that it is normal and that the child gets the same looks from its family members. Yeh Rishta Kya Kehlata Hai February 6, 2019 Written Update Full Episode: Will Kirti Learn the Truth About Her Baby?
Naira is making Krish sleep in the cradle and tells Kirti sorry as this cradle was brought for Kirti's baby and the name also they gave to their baby is her's. Kirti says why she should feel bad as she is feeling happy about it. Naira tells Kirti that she is very strong as she has controlled her feelings inside her and that she can understand her now as she has become a mother. Kirti tells that it is really difficult for her as the whole night she cannot sleep and thinks of all that happened.
Kirti tells that truth is in front of her but she is not able to believe it. Naira gives water to Kirti and tells that truth like this needs time to forget. Kirti tells that in her case it is the other way round her heart is agreed to what happened but her mind is not ready to accept it. Kirti tells that, again and again, she hears someone's voice. Naira asks whose voice she hears. Kirti says she thinks it is Kartik's voice and that she has not said this to anyone till now about this not even the doctor's. Confirmed! Shaheer Sheikh Lands Lead Role in Yeh Rishta Kya Kehlata Hai Spin-Off
Kirti tells when she was in sleep she could hear Kartik (Mohsin Khan) apologizing to her sometimes and sometimes the voice was seeking an apology from her. Kirti says this all is making her tensed as is it true or she is just dreaming it. Naira gets upset and assures Kirti that she will speak to Kartik and ask him whether Kartik had actually spoken to Kirti or not. Naira gives a god's idol to Kirti from the hands of Krish as a gift for her.
Naira video calls Kartik and asks him whether he had actually apologized to Kirti, Kartik drops his phone on hearing this. Naira calls out to Kartik as what happened, Kartik tells her that by mistake he dropped his phone and tells Naira may be he had apologized to Kirti as he was not being able to help Kirti in her condition. Kartik hangs the phone saying he has to attend a meeting. Kartik gets confused whether or not he should tell the truth to Naira and Kirti and that if Kirti remembers the truth they both will start hating him and that he should tell the truth about Krish to both of them.
Seeing the marriage album Naira remembers that their marriage anniversary is coming and plans to have some fun with the family and celebrate it. Kartik in his office thinks that people give a gift to their wives on their anniversary and he is going, to tell the truth on that day to Naira. Naira is talking with the baby and is saying that she will buy a gift for Kartik and will make a dish for him.
Naira suddenly remembers that she had to make a duplicate copy of Krish's medical papers that she had misplaced just then Leela comes and tells that she has to go to the hospital for some work and that she will get the papers for her. Naira thinks who will argue with Leela and that today only she will go and make the papers or else tell Kartik to do it.
Leela calls Kartik and tells her about Naira visiting the hospital and tells him to talk to her and tells that by that time she will arrange to make the fake papers of Krish, Kartik gets angry and tells is she mad to do this as it is very risky and that if someone comes to know about it as the date, time and even the blood group will be different in that and how could she talk about it. Leela says sorry and that she is taking a half day off and tells Kartik to do what he wants, Kartik tells that he will handle it and no need of her help. Naira is telling the baby first they will go to the hospital and then go shopping.
Kartik feels guilty about the whole thing and records his voice and reveals the truth and attaches the Sim card to the greeting card that he is about to give to Naira on their anniversary. Meanwhile, Naksh gets an anonymous call where a man informs Naksh that his child was exchanged with some other baby and tells him to come to the hospital if he wants to know the truth. Naksh gets confused about whether he should go or not. Naksh goes to the hospital to know the truth.
Here, Naira visits the hospitals and gets the copy of the papers from the hospital. She also learns from the doctors that whatever is going on Kirti's head, she must have actually heard and that Kartik must have actually told all that to her when Kirti was in the comma. Naira decides on bringing them face to face and discuss the whole matter and that they can decide what had actually happened and learn the truth which should no more bother Kirti.
Meanwhile, Naksh reaches the hospital to meet the person who had called him and calls the number from which he had got the call. Kartik thinks is it fine if he gives the card to Naira or he himself should go and say the truth to Naira. In the precap, Naksh slaps Kartik and Kirti is telling that Krish is her baby.