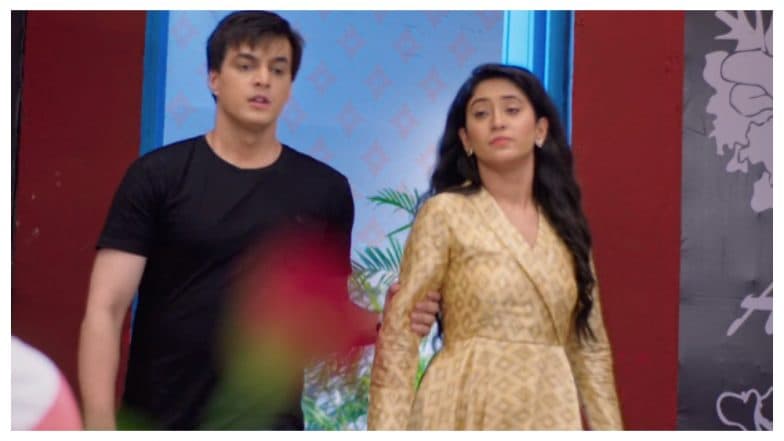 In yesterday's episode of Yeh Rishta Kya Kehlata Hai, we saw Naira tells Kartik that she followed the Teej rituals for Kairav's sake. While she learns a shocking truth about Lisa's boyfriend. Kairav surprise leaves the family baffled. Tonight's episode starts with Manish asking Suhasini to think how to get Kartik (Mohsin Khan) and Naira (Shivangi Joshi) out of this strange situation. Kairav keeps the hand statue. He says it will be perfect like our happy family. Vedika gets upset and goes. Vansh says we can write over it. Kairav says we will write, happy family together, forever. Yeh Rishta Kya Kehlata Hai September 12, 2019 Written Update Full Episode: Naira Confesses to Kartik That She Observed a Fast During Teej on Kairav's Insistence.
Meanwhile, Vedika asks Suhasini that can she go to her father's house for some time as she is missing him, Suhasini tells her to go but with Kartik. Suhasini tells Kartik to go with Vedika but he says he has some urgent work in the factory so he cannot go, Vedika goes alone. On the other side, Naira tells Kartik that they should meet somewhere outside so that no one sees them. They both leave in the car. Vedika sees the car and says Kartik left now, maybe Samarth was with him. Kartik and Naira come to the cafe. He asks what was so urgent. Naira tells him to sit first and she will say. Naira and Kartik remanence as it was the same café in which they used to sit for a long hour chatting when they were in love. Naira tells Kartik that she came to know who is Lisa's boyfriend and reveals that it is Akhilesh Goenka. Just then Vedika comes there to take her parcel and see Kartik with Naira and gets disturbed. Yeh Rishta Kya Kehlata Hai Producer Rajan Shahi Reacts to Fans' Disappointment Over Hina Khan Not Being Credited for the Success.
Later, Kartik tells Naira they should find out the truth and tells that he trusts her but they have to confirm once more with Lisa. Kartik calls Akhilesh and tells him to meet him, Akhilesh comes and ask why he called him here. Naira comes with Lisa, Akhilesh is shocked when he sees Lisa there. Lisa is happy to see Akhilesh and goes to talk with him and tells him how she missed him and how disturbed she was. Akhilesh denies knowing Lisa and says he has never met her before and that he is not Anil but Akhilesh Goenka and leaves from there.
Back in the Goenka household, Surekha is telling her kids that she does not know where their father is and shouts at them and tells to talk directly with him and not drag her in between. Suhasini and Swarna comes and gets tensed when they see Surekha so stressed, Suhasini says she will have to talk about this with Akhilesh. On the other side, Lisa blubbers as she is shocked by Akhilesh's reaction, Kartik tells he will talk to his uncle. Lisa is shocked to know that Akhilesh is Kartik's uncle and says he is married and has kids also. Lisa gets disturbed as she did not know that he had a family also and cries.
Meanwhile, Vedika cries and talks to her dad's picture, and says she is scared as Naira is back in Kartik's life and what will happen to her and where will she go. Later, Naira gets emotional when she sees Lisa so tensed and tells Kartik that Lisa is a very nice soul and this shouldn't have happened to her, Lisa was the only friend who helped her and Kairav settle in Goa, and she is unable to do anything for Lisa, Kartik holds her tight in his arm and consoles her.
In the precap, Vedika gets angry seeing Naira leaving. Naira apologizes to her. Vedika sees Kartik with Naira and taunts her.