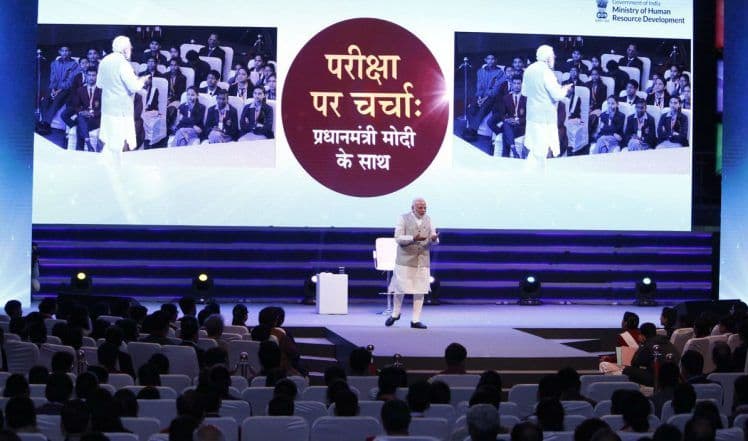 New Delhi, February 16: Prime Minister Narendra Modi on Friday addressed students who are appearing for their board examinations and guided them on how to fight with the stress of exams. The Prime Minister highlighted the importance of "staying happy" and taking tests "without stress". "You should know yourself; You should know your capabilities. Do not compete with others, compete with yourself", PM Modi said in his address at Delhi's Talkatora stadium.
The 'Pariksha Pe Charcha' session is for the students appearing for Class 10 and 12 board exams. The interaction with over 10 crore students from across the nation comes weeks after the Prime Minister launched his book named 'Exam Warriors' that contains 25 mantras to help students face examinations without stress. The book guides students to cope up with the stress of appearing for exams with a smile.
Here are the key highlights:
The Prime Minister addressed as many as 3,500 students from Talkatora Stadium in New Delhi. "I'm not your PM, I'm your friend. I have come to give tips how to give exams. Respect your teachers", Modi said.

Concentration isn't something that has to be specifically learnt. Every person does concentrate on something or the other during the day, it may be while reading, hearing a song, talking to a friend: Modi

Taking about how Yoga releases stress, the Prime Minister said, "I would say Yoga is a wonderful way to improve concentration. Some say it is a way of life, some say it is a form of exercise. I believe it is something higher. If it was just exercise, they would be performing in circuses.

Do not compete with others, compete with yourself. Every student has its own potential, says PM Modi. He requests parents to not put pressure on the children for good grades instead let the students find their own potential.

The Prime Minister said that the 'Pariksha Par Charcha' is a programme for the one crore school children of this country. "I am confident that for sake your student here, you are all my examiners. Let's see how much marks you give me", Modi said.

Modi said, "I have read Vivekanand, Aham Brahmasavi, they say don't think yourself any less. They inspired self-confidence, the thing he always said is there 33 crore gods and goddess, They will bless you."

"Keep yourself in mind while sitting for exams. You decide your future not others. Self-confidence comes by challenging ourselves and working hard. We should always think of bettering ourselves.In addition to the right skills and the means, what a student needs is self-confidence", the Prime Minister said.

Modi said students should learn to de-focus to be able to focus and that time management should be worked on as cutting yourself from what you love is not a great solution. He said during board exams students cut contacts with all social activities but this doesn't get results. This was because de-focusing is important.

Modi said students need both EQ and IQ- a balance of both is required. "Intelligence on its own is not worth anything if it is not guided by inspiration. That inspiration comes from EQ, it provides provides strength for taking risk", Modi said.

Modi stressed upon a point as to why was sleep important. He said sleep is very important to maintain a balance in life. "Sleeping soundly is good for your health. Not just how much you sleep, the quality of sleep is also important. I have a busy life but try getting a consistent amount of sleep. I take less than a minute to fall asleep. Similarly, during exams, sleeping is vital but more important is the quality of sleep", the Prime Minister said.
Addressing as many as 3,500 students from Talkatora Stadium, pre-recorded questions of students suffering from exam-related stress were being played. "My young friends, always keep the student in you alive, self confidence comes by challenging ourselves and working hard. We should always think of bettering ourselves", PM Modi said.
The Prime Minister suggested Yoga as a means of relieving stress and spoke about how different asanas can help in relaxing the mind and easing up the nervousness which gives a positive energy reduces stress.
The session starts with Samiksha from Delhi, Harsh from Pune and Sanjana asking PM Modi the importance of self-confidence and tackling exam stress. Deepshikha from Delhi, Leela Bano from Leh, Kushal and Kartik from BHU had questions on the expectations of parents, particularly during exams. Meanwhile, Neha from Kozhikode, Aruna Srivastava, and Yukti asked the Prime Minister on aspects relating to peer pressure.
As many as 28.24 lakh students from all over the country are set to write exams under the CBSE board this year. Many students will also be writing various entrance tests for college admissions. Union HRD minister Prakash Javadekar who is accompanying the Prime Minister said that exams is not a political issue it is an issue which everyone has faced or will face once in their lifetime. "A good education is a stepping stone to a good life. And today the PM will talk to students about how to not take stress while preparing for exams", he said.