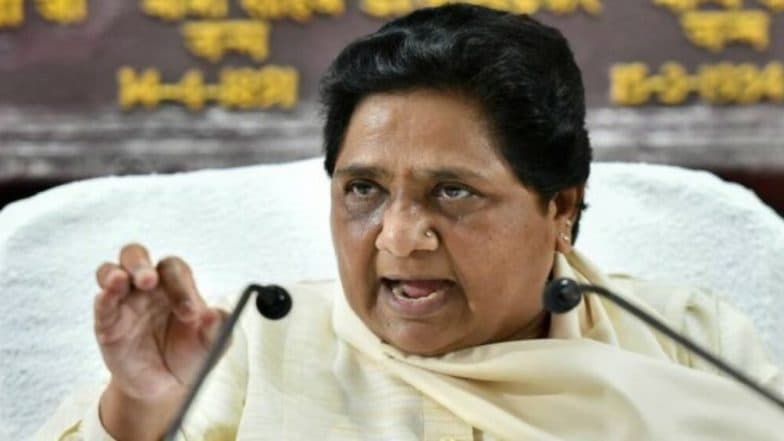 Lucknow, June 24: After the opposition gathbandhan (alliance) in Uttar Pradesh decimated following the 2019 Lok Sabha Elections result, Bahujan Samaj Party (BSP) chief Mayawati on Sunday made a scathing attack on Samajwadi Party president Akhilesh Yadav at a party meeting in Lucknow. Besides unearthing the previous misgiving, she even accused SP founder Mulayam Singh Yadav of falsely charging her in Rs 17 crore Taj corridor case in 2000.
Mayawati's recent statement would further affect the relationship with Samajwadi Party, who earlier said that they could come together to fight future battles against Bharatiya Janata Party (BJP). In Lok Sabha elections, BSP-Samajwadi Party combine managed to get just 15 seats while saffron party won 64. Will Contest By-Polls Alone in Uttar Pradesh, But Not Permanent Break From Samajwadi Party: Mayawati.
"After the mahagathbandhan lost the elections, I received no call from Akhilesh. BSP general secretary Satish Mishra asked him to speak to me, but he just wouldn't listen. But because I am senior to him, I called him up instead and expressed sadness over his family members losing," an NDTV report quoted Mayawati saying to party members at the meeting. BSP Chief Mayawati Gives Brother Anand Kumar and Nephew Akash Anand Key Party Posts.
The BSP supremo also accused Akhilesh of discriminating on the basis of caste, "When I was handing out tickets for the Lok Sabha election, Akhilesh sent a message through Satish Mishra that I should not give tickets to Muslims to prevent polarisation of votes. But I did not agree," she said adding that people didn't vote as Akhilesh worked against "non-Yadav backward communities" when he was UP CM, reported NDTV.
Mayawati's statement came during the national convention of the BSP in Lucknow, which was attended by all newly elected Member of Parliaments, MLAs and key leaders from all over the country. The party also discussed issues such as removal of EVMs and holding elections through ballots.