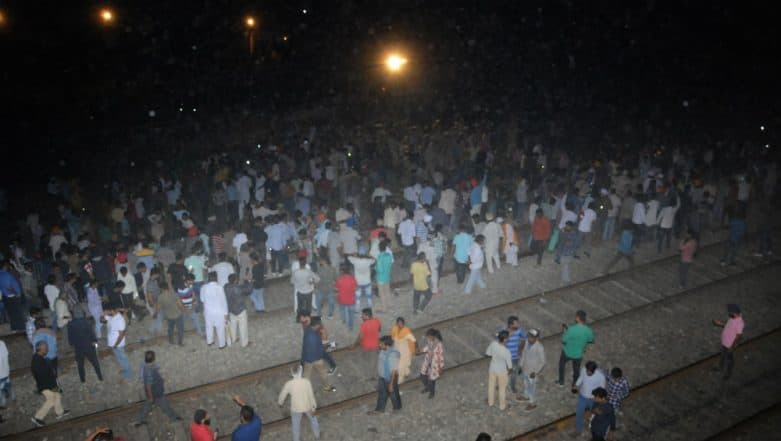 Amritsar, October 20: The train accident in Amritsar which claimed lives of at least 60 people could have been averted had local railway officials informed railway authorities about the Ravan Dahan event near tracks, sources in the Indian Railways told a leading daily. They said no 'temporary caution order' was issued to alert loco pilot about the presence of crowd on tracks.
A train mowed down at least 60 people while they were watching the burning of a Ravana effigy from a railway track on Friday evening. The incident site falls under Ferozepur division of Northern Railway, which did not issue ''temporary caution order' to alert drivers to slow down at certain sections as Ravan effigies were being burnt near tracks, sources said.
They also said loco pilots of the Diesel Multiple Unit (DMU) local train and the Amritsar Howrah Mail that crossed the section at high speed did not apply emergency brakes even when the crowd on tracks was visible from a considerable distance due to light following fireworks. The Punjab and Railway Police on Saturday detained the driver of DMU and was being questioned regarding the accident. Amritsar Train Accident: Navjot Singh Sidhu Says, 'There Has Been Negligence, But It Was Never Intentional'.
"If we had been informed about the Dussehra event being conducted near the railway crossing, then we could have cautioned the driver and the guard of the train to slow down, and the accident could have been avoided," Alok Mehrotra, Station Superintendent, Amritsar, told the newspaper. He also blamed the Dussehra event organising committee for not informing the railway authorities.
No action has so far been initiated against the organisers, who are leaders of the ruling Congress in Punjab, of the Dusshera event. Railway officials were also gathering information from the railway linemen posted along the tracks near the Jora Phatak area who failed to inform the DMU driver regarding the presence of over 700 people on the railway tracks who were watching the burning of the Ravan and other effigies during Dussehra celebrations.
As the Ravan and other effigies went up in flames with the loud noise of bursting firecrackers, the people standing on the live railway tracks did not realise that a speeding train was approaching. Nearly 150 people, most of who were watching the burning of effigies or were recording the event on their mobile phones, were mowed down by the train. (With IANS inputs)