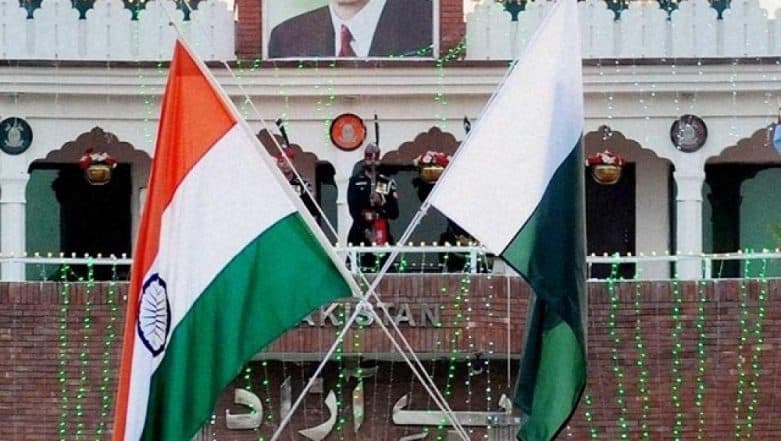 Amritsar, August 12: In the wake of increasing tensions between India and Pakistan, the Border Security Force (BSF) and Pakistani Rangers did not exchange sweets and greetings on the occasion of Eid-Al-Adha on Monday at the Attari-Wagah Border in Punjab. According to reports, Pakistani Rangers on Sunday informed BSF personnel that there would be no exchange of sweets on the occasion of Bakrid this year. Samjhauta Express Between Delhi-Attari Cancelled by India in Retaliation to Pakistan Suspending Train Services.
The BSF was willing to exchange sweets with their Pakistani counterparts but did not get a positive response. Forces of both nations traditionally exchange sweets on their national and religious festivals. Earlier in June, BSF and Pakistani Rangers personnel exchanged sweets at the Attari-Wagah border in Punjab on the occasion of Eid-ul-Fitr. DTC Cancels Delhi-Lahore Bus After Pakistan's Decision to Discontinue Friendship Bus Service as India Revokes Article 370 in J&K.
Pakistan also suspended the Lahore-Delhi Samjhauta Express train and Friendship Bus service as a mark of protest against India's move to scrap special status of Jammu and Kashmir by diluting Article 370. Pakistan's Foreign Minister Shah Mehmood Qureshi justified the move taken by his government, saying that conditions cannot remain normal with India in the wake of the "unilateral actions" being taken by New Delhi in Jammu & Kashmir.
In addition to suspending train and bus services with India, Islamabad also "downgraded" bilateral ties with New Delhi. Last week, India scrapped the special status of Jammu and Kashmir. The Narendra Modi government also divided the state into two union territories - Jammu & Kashmir and Ladakh.
(With agency inputs)