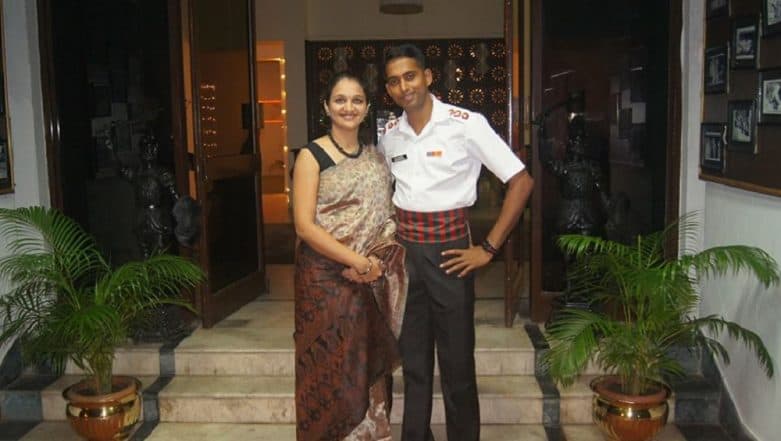 Mumbai, February 24: Gauri Mahadik, the widow of Major Prasad Mahadik, who died in a fire on December 30, 2017, in Tawang district of Arunachal Pradesh is all set to join Officers Training Academy (OTA) of the Indian Army in April. The 32-year-old Gauri cleared her Services Selection Board (interview) in the second attempt. She topped the merit list of the SSB in the widow category in her second attempt.
After completing 11 months of training at the OTA, Gauri will be commissioned into the Indian Army as Lieutenant in March next year. While speaking to news agency ANI, she said that Major Mahadik always wanted her to be happy and smiling. She added that she would serve the country with the same dedication the way Major Mahadik did. Indian Army Officer Proposes His Girlfriend During Pipping Ceremony At Officers Training Academy, Chennai.
Gauri Mahadik's interview:
The army officer hailed from Virar in Mumbai. He joined the OTA in Chennai (SSC-93 Batch) and was commissioned on 17 March 2012, into 7 Bihar of the famed Bihar Regiment. Major Mahadik married Gauri on February 15 2015. He is survived by his wife Gauri, father Ganesh and mother Sharda.
Meanwhile, last year in September, Neeru Sambyal, an army man's widow was commissioned as Lieutenant in the Army after completing 11 months training from the OTA. Lt. Neeru is a widow of Rifleman Ravinder Sambyal. She has a four-year-old daughter.