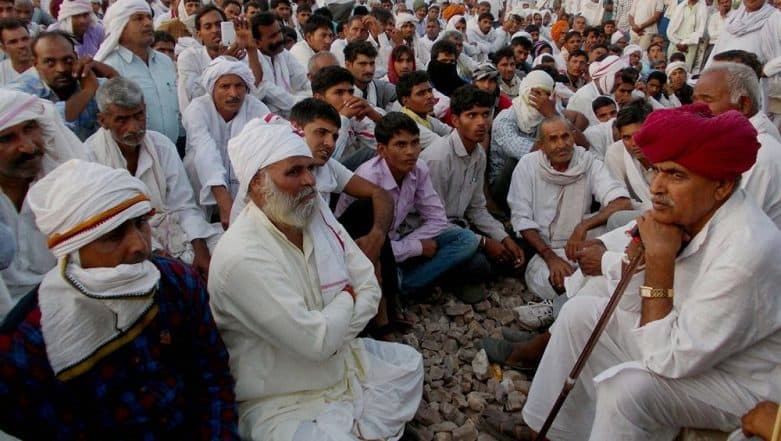 Jaipur, February 10: Gujjar protesters, who have been demanding reservation, continued their sit-in protest on railway tracks in Rajasthan's Sawai Madhopur for the third day on Sunday. The protesters blocked railway tracks between Sawai Madhopur-Bayana section (Malarna-Nimoda block section) on North-Western Railway, causing inconvenience to thousands of commuters. In the wake of the protests in the state, the CPRO West Central Railway has informed that a total of ten trains have been diverted/short terminated or cancelled on Sunday. Gujjar Reservation Protest: Train Services Hit, Two State Exams Also Postponed. 
In a bid to clear the extra rush due to Gujjar agitation between Sawai Madhopur-Bayana in West Central Railway, the Western Railway(WR) on Sunday said it will run a special train from Bandra Terminus to Sawai Madhopur at 20.15 hrs (8.15 PM) on 10, 11, 12, 13 & 14 February. The train will depart from Sawai Madhopur at 13.45hrs for Bandra on 10, 11, 12, 13 & 14 February.
The blockade by Gujjar Arakshan Sangarsh Samiti chief Kirori Singh Bainsla and his supporters forced the West Central Railway (CWR) to divert, cancel or partially terminate nearly 200 trains in the last three days. Meanwhile, Vijay Bainsla, another Gujjar leader, said they have been waiting for talks with the government since the last 20 days on their demand. Rajasthan Govt Issues Circular Mandating 1% Reservation For Gujjars, Four Other Communities Under MBC Category.
The protesters are demanding five per cent reservation to the Gujjars, Raika-Rebari, Gadia Luhar, Banjara and Gadaria communities in government jobs and educational institutions. At present, the five communities are getting one per cent separate reservation under the most-backwards category in addition to the Other Backward Class (OBC) quota.
A senior official of the Western Railways informed that scores of agitators blocked the Sawai Madhopur-Bayana section under North Western Railway near level crossing gate number167. Due to the ongoing protest, nearly 13 long-distance trains were cancelled on Saturday as well as another 10 trains scheduled to depart Sunday.