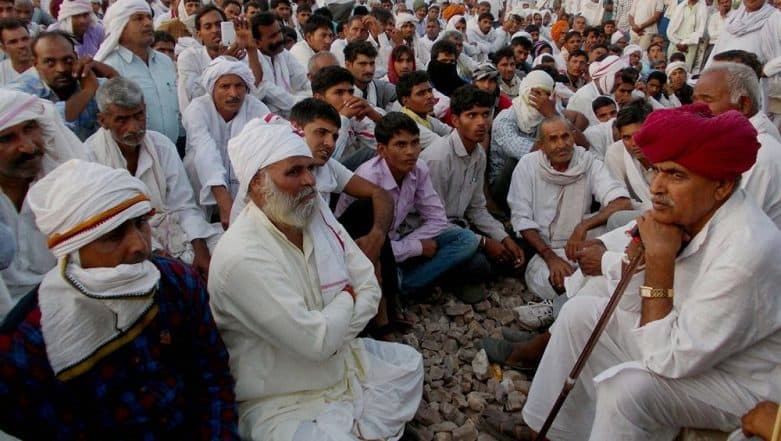 Kota, February 9: Due to the protest by the Gujjar community in Rajasthan over the issue of reservation, On Friday seven trains in Kota Division of Western Central Railway were diverted, while one train was cancelled. Three trains were also short originated, and one train was short terminated. Yesterday, Gujjar leader Kirori Singh Bainsla and his supporters blocked the rail tracks in Rajasthan's Sawai Madhopur district. Rajasthan and Madhya Pradesh Gujjar Leaders Decide to Launch Protest on Reservation Before May 21 at Various Places.
The protesters are demanding five per cent reservation to Gujjars, Raika-Rebari, Gadia Luhar, Banjara and Gadaria communities in government jobs and educational institutions. As the dharna continued at Malarna Doongar -- around 125 km southeast of Jaipur, Rajasthan Chief Minister Ashok Gehlot appealed to the people to maintain peace. Gujjar Community Demands 5 Pc Reservation in 11 Days.
Rajasthan: Visuals from Malarna Dungar station in Maksudanpura village of Sawai Madhopur dist as reservation movement by Gujjar community in the state continues today.7 trains in Kota Division of Western Central Railway diverted, 1 cancelled, 3 short originated&1 short terminated pic.twitter.com/AAtdMFCJNl

— ANI (@ANI) February 9, 2019
Bainsla, who heads the Gujjar Arakshan Sangharsh Samiti, told reporters, "Things are changing fast. I have not come here, but the crowd has brought me on the railway tracks. People cannot be fooled all the time. It is a fight to do or die. The state government should stand on its promise. It will be a peaceful protest. I will lead the protest and the youths will support."
Bainsla had last month gave a 20-day ultimatum to the state government to clear its stand on over the reservation demand, failing which he threatened of reviving the quota agitation. As the deadline lapsed on Friday, Bainsla held a 'maha panchayat' at Malarna Doongar and started the sit-in. Currently, the five communities are getting one-percent separate reservation under the most-backward category in addition to the Other Backward Class (OBC) quota.
(With inputs from PTI)