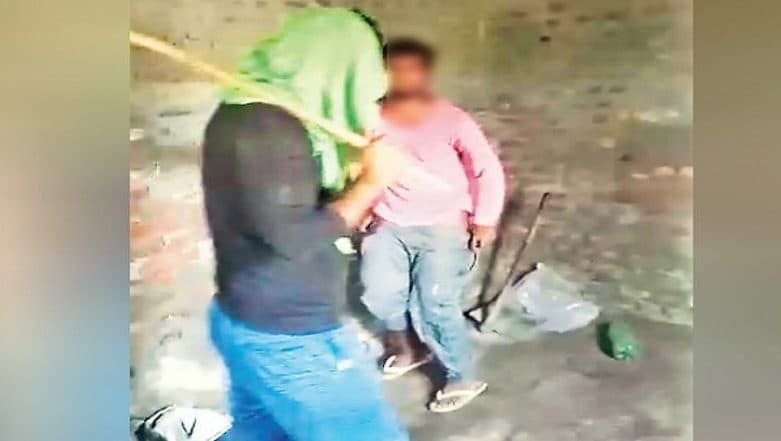 Sonipat, June 25: Days after the heinous act of Tabrez Ansari being lynched by mobs in Jharkhand's Kharsawan area coming to the fore, another similar incident broke out in Bajana Kalan village in Haryana's Sonipat, where a Dalit boy was beaten by upper caste men. Though the incident is one-month-old, police took weeks to arrest the two accused even after the video was in circulation socially.
According to the report, published in various dailies, the Dalit boy was allegedly thrashed by two upper caste men for washing his cattle in a water body frequented by those from the so-called upper caste community. However, police claim that this was part of 'punishment' and stated that nobody had lodged a complaint or forwarded the video to them until then, the case been taken up seriously by the social activists. Jharkhand Lynching Case: Rahul Gandhi Questions 'Police Cruelty', Silence of BJP-Ruled Centre, State Govt
Explaining the reason for the delay in taking action, Sonepat Superintendent of Police Arpit Jain said, as quoted by NDTV, "But the father of the victim came to us today and registered a complaint. He did not give reasons for the delay in informing us. Apparently, the victim got into a dispute with the two accused after they tried to force him into working on their farm. The victim is currently in Delhi and we are waiting for him to return."
Soon after the brutal report of the heinous act of humanity came into the fore, identified accused Mohit and Jitendra, both residents of the same village, have been arrested by the police.
Here's the Video:
It is to be known that atrocities against the minorities and Dalits rose in the last couple of days. In July 2016, seven members of a Dalit family were beaten mercilessly by upper-caste cow vigilantes for allegedly skinning the carcasses of dead cattle in Gujarat's Una district.