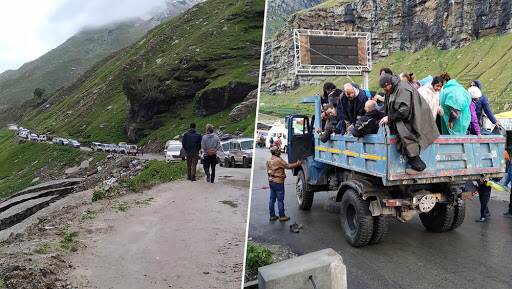 Shimla, August 18: Heavy rains have wreaked havoc in Himachal Pradesh. At least 400 tourists are stuck between the road in Keylong and Sissu areas of Lahaul and Spiti due to landslides. Around 150 tourists including foreigners were rescued from Chhota Dara, Chhatru and Gramphu areas of the district. Roads in the area have been washed away due to incessant rains. According to Border Roads Organisation (BRO), restoration work is underway. Himachal Pradesh Rains: School, Colleges to Remain Shut in Kullu, Shimla Tomorrow.
Meanwhile, 18 people lost their lives in rain-related incidents in Himachal Pradesh on Sunday. Nine people were also reportedly injured due to incessant rains. Eight people died in Shimla, two each in Kullu, Sirmaur, Solan and Chamba and one each in Una and Lahaul-Spiti districts. A red alert has been declared in some district including Kangra, Shimla, Chamba and Kullu districts of the state.
School, Colleges and other educational institutes will also remain shut in Kullu and Shimla districts of Himachal Pradesh. Authorities of both the districts on Sunday issued orders regarding the closure of all educational institutes for the safety of children. In the wake of warning of heavy rains, Himachal Pradesh Chief Minister Jai Ram Thakur directed all Deputy Commissioners to ensure the safety of both the local people as well as the tourists. Cloudburst Causes Huge Damage in Uttarakhand's Uttarkashi, Five People Go Missing, Several Houses Damaged.
Neighbouring states of Punjab and Uttarkhand are also affected due to heavy rains. According to a report published in The Hindu, 81 low-lying and flood-prone villages in Phillaur, Nakodar and Shahkot of Jalandhar district have been ordered to be evacuated. Meanwhile, three people died, and 22 went missing following a cloudburst in Uttarakhand.