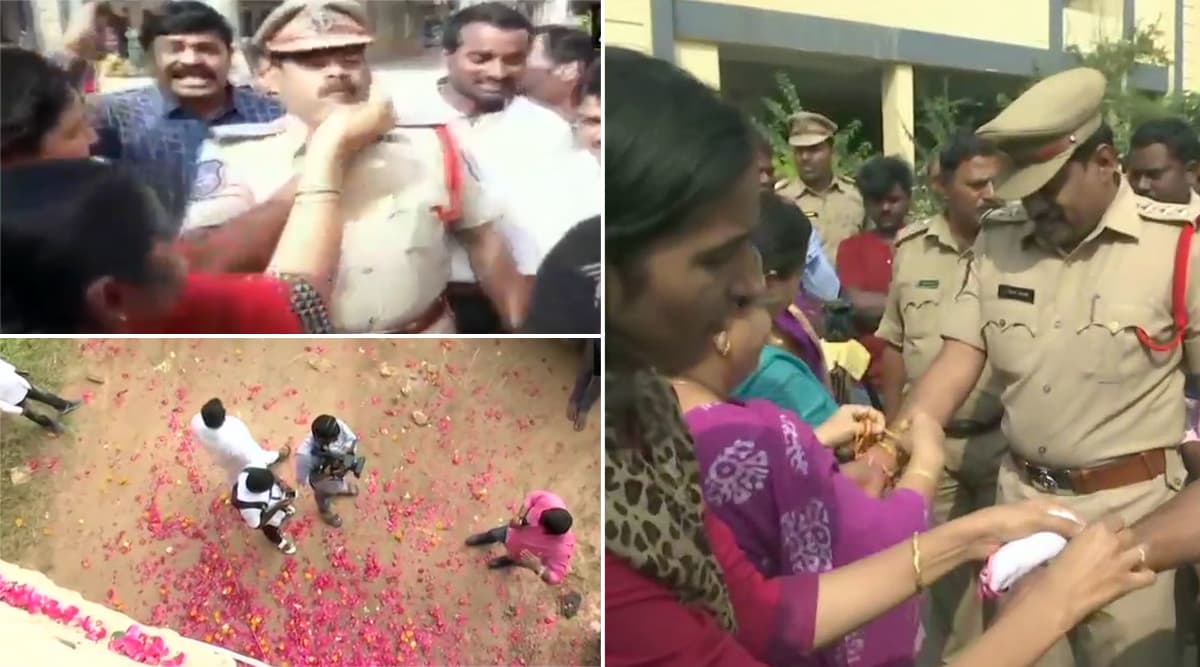 Hyderabad, December 6: Celebrations erupted in parts of Telangana soon after the state police, in an encounter, gunned down all four accused in the gruesome gangrape and murder of a 27-year-old veterinarian. Police personnel were greeted by cheering crowd and slogans hailing senior cops including Cyberabad Police Commissioner V C Sajjanar were raised. Neighbours of the victim also tied rakhi to cops. Hyderabad Encounter: All Accused in Vet Rape And Murder Case Gunned Down at Same Spot Where They Dumped Victim's Body.
As the news of the encounter spread, a large crowd gathered near the scene. They showered rose petals on police personnel present there while expressing happiness. Slogans such as 'DCP Zindabad, ACP Zindabad' were raised by locals in Hyderabad. In one of the videos shared by news agency ANI, people were seen giving a loud cheer to police personnel at the encounter site and distributed sweets.
The father of the victim expressed gratitude to the state police and said that his daughter's soul must be at peace now. "It has been 10 days to the day my daughter died. I express my gratitude towards the police and government for this. My daughter's soul must be at peace now," he told ANI. The parents of the 2012 Delhi gang-rape victim 'Nirbhaya' also expressed happiness over the killing of all accused in the Hyderabad case.
People Celebrate And Cheer For Police at Encounter Site:
#WATCH Hyderabad: People celebrate and cheer for police at the encounter site where the four accused were killed in an encounter earlier today. #Telangana pic.twitter.com/WZjPi0Y3nw

— ANI (@ANI) December 6, 2019
'Nirbhaya's mother Asha Devi said that the police "did a great job". Devi said while speaking to ANI that, "I am extremely happy with this punishment. Police have done a great job and I demand that no action should be taken against the police personnel." Her father said: "I feel they have done a very nice job. If they had escaped, there would have been questions about how the police let them escape. Also, it would have been difficult to arrest them again. Even if it (their arrest) would have happened, the whole procedure of punishing them would take unfathomable time."
The accused Mohammed Arif, Jollu Naveen, Jollu Shiva and Chintakunta Chennakeshavulu were killed in an encounter by the police. According to the police, the accused were killed when they allegedly snatched weapons from cops and fired at them in a bid to flee. "In self-defence, the police fired back, in which the accused were killed," Cyberabad Police Commissioner V C Sajjanar said.
The 27-year-old veterinarian was sexually assaulted and killed near Outer Ring Road at Shamshabad. Her body was set ablaze and found under a culvert near Shadnagar town, about 25 km from Shamshabad. The heinous crime had triggered nation-wide outrage.